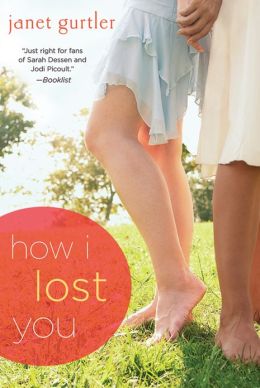 In a world overflowing with books about teenagers killing one another, it's always nice to discover a well-written YA novel about normal teen drama—one that limits itself to figurative (rather than literal) back-stabbing. This real-world premise wasn't the only thing we liked about Janet Gurtler's How I Lost You, but it definitely helped.

How I Lost You is told from the perspective of seventeen-year-old Grace, who finds herself spending more and more time cleaning up her best friend Kya's messes. Kya is struggling to come to terms with a traumatic event in her past, but her reckless behavior is putting both girls at risk—their friendship, their mutual dreams of playing college paintball, and even occasionally their safety. Grace is determined to protect Kya from the consequences of her actions, but it becomes increasingly clear that her best friend might not want saving.

Neither character in How I Lost You is particularly easy to identify with. Grace is too good to be true, and Kya's manipulative, self-destructive antics make it tough to root for her. Still, I found myself drawn in by Grace's struggle to balance her sympathy for Kya with her growing sense of resentment. Discovering that not all friendships are salvageable is an inescapable part of growing up, and Gurtler's novel explores that unhappy truth with intelligence and sensitivity.

Review based on publisher-provided copy.
No new comments are allowed on this post.