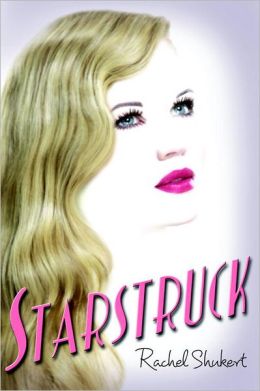 Rachel Shukert's Starstruck steals most of its plot from Jacqueline Susann's Valley of the Dolls, but Shukert's YA novel is a vast improvement on Susann's dour melodrama, transforming a silly and overwrought story into something smart, ambitious, and utterly engrossing.

Starstruck is set in late-1930s Hollywood, where Olympus Studios is churning out hit after hit. Pasadena debutante Margaret Frobisher, former vaudeville star Gabby Preston, and sultry party girl Amanda Farraday are Olympus's newest ingénues, but the road to stardom is perilous: Amanda needs to cover up her past as a paid escort, Margaret is dangerously naïve, and Gabby is relying on drugs from the studio's doctors to lose weight. As the girls struggle to survive the intrigues of the studio system, a larger mystery looms in the background—what happened to Diana Chesterfield, Olympus's biggest star, who went missing right before the release of her latest movie? And what is the studio hiding about her disappearance?

I read Valley of the Dolls in college, and it sucked. I had previously assumed that books described as "camp classics" were all a least a little fun, but Susann's novel proved me wrong: it was as miserable as it was boring. Shukert focuses on the same material—the Golden Age of Hollywood, the seedy side of show business, the vulnerability of young women whose value hinges upon their beauty and sex appeal—but her characters are kinder, braver, and smarter than Susann's, which allowed me to care about their problems, and hope for a happy (or at least non-Judy-Garland-esque) ending. I'm already looking forward to the next installment in this series, and if it's even half as compelling as Starstruck, Shukert will have established herself as a great new voice in YA literature.

Review based on publisher-provided copy.
No new comments are allowed on this post.