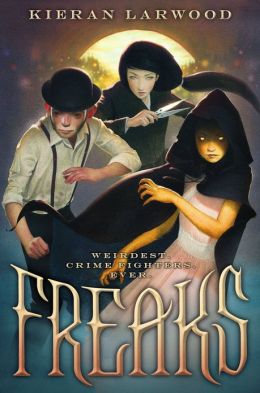 Kieran Larwood's debut novel Freaks was the 2011 winner of the annual Children's Fiction Competition co-sponsored by the London Times and Chicken House Publishing. I've been following this contest since it started in 2008, and while all of the books they've chosen have been solid, Larwood's novel is my new favorite.

Freaks is an adventure story aimed at 10- to 14-year olds and set in 1850s London—which, thanks to a waste-management system that had no way of dealing with the huge uptick in population after the Industrial Revolution, was arguably the grossest place and time in English history. Larwood's heroine is nine-year-old Sheba the Wolfgirl, the only notable attraction at Grunchgirdle's World of Curiosities. (Apart from Sheba, Grunchgirdle's consists of a two-headed lamb named Flossy and a "mermaid" made of a stuffed squirrel sewn onto a dried carp tail.) When Grunchgirdle decides to retire, he sells Sheba to Mr. Plumpscuttle, a slightly-more successful freakshow proprietor. Plumpscuttle hauls the hirsute little girl off to London, where she meets—and immediately befriends—her fellow freaks: Mama Rat, Gigantus, Monkeyboy, and Sister Moon.

While it boasts an enjoyably fast-paced kids-in-peril plot, Freaks also offers a fair amount of educational value. Larwood explores Victorian England's troubled social conditions (and sewer conditions) with relish, expanding his focus beyond the plight of the titular freaks—the book also discusses "mudlarks" (children who waded through the dangerously sticky mud of the Thames, hunting for valuables), infant mortality rates (50% of children didn't live to see their fifth birthday), and the general state of British drinking water at the time ("raw sewage, with a little mud mixed in for flavor"). Happily, he manages to keep the flow of historical information rolling at a brisk pace, and kids are unlikely to notice that they're picking up a fair bit of history along with the book's collection of goofy one-liners, fantastic characters, and energetic battle scenes.

A quick word of warning: Freaks leaves a lot of plot threads dangling. I'm assuming Larwood is planning a sequel, but I don't see any signs of it on Amazon's UK site. (While Freaks was just released here in the States last week, it's been available in England for almost a year, so the author has had some time to get cracking on book two.) Even as a standalone, the first book is tremendous fun, but I'd like it even better if I had some guarantee that Larwood was eventually planning on tidying up all those loose ends.

Review based on publisher-provided copy.
No new comments are allowed on this post.