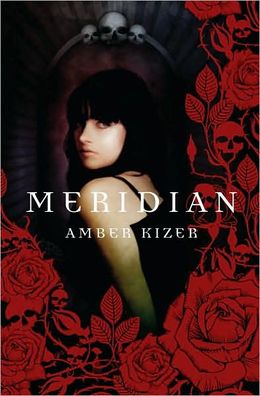 Amber Kizer makes no secret of the fact that she started writing fiction because she needed a job that she could handle while managing a difficult health condition, not because she had an epic novel burning inside of her. Happily, Kizer turns out to possess a real talent for trotting out entertaining, briskly-paced YA literature, no matter how prosaic her inspiration.

Kizer's Meridian trilogy, which consists of 2009's Meridian, 2011's Wildcat Fireflies, and last fall's Speed of Light, centers around teenager Meridian Sozu, who has spent her entire childhood surrounded by insects and small animals, who seem compelled to seek her out before dying. On her sixteenth birthday, her mother informs Meridian that she is a Fenestra—a living window between this world and the next, born to help dying souls cross over into the afterlife. Meridian is bundled off to live with her great-aunt, a fellow Fenestra and the only person who can teach Meridian how to safely transition souls. Unfortunately, Meridian's aunt is dying herself, and Meridian will soon be left with no one but Tens, the handsome, taciturn boy whom her aunt claims (despite his seriously grumpy demeanor) is her destined protector.

Unlike many of the YA authors I've encountered lately, Kizer seemed fully in control of her series from start to finish. Her books are solidly structured, her major characters are memorable, and she presents a lovely image of life after death. The second book expands the series to include another protagonist—Juliet, a teenage Fenestra coming of age in a grotesquely twisted group home—injecting the always-tricky middle installment with a serious kick of adrenaline that carries through the rest of the trilogy.

Despite all these excellent individual elements, the Meridian books fall short of greatness. Kizer underplays the horror in the first and third books and overplays it in the second. (Seriously overplays it. Large portions of Wildcat Fireflies read like Charles Dickens crossed with Stephen King.) The books feature almost no humor, and several of the minor characters fall flat. Even readers who enjoy loads of overheated teenage angst might be a little disappointed, as the series is less "paranormal romance" than "fantasy/action hybrid with some totally straightforward and relatively healthy romance-y bits thrown in". None of this means Kizer's books are actually bad (far from it), but their appeal seems limited to pre-existing fans of the genre. They are unlikely to create any new ones.

Reviews based on publisher-provided copies.
No new comments are allowed on this post.