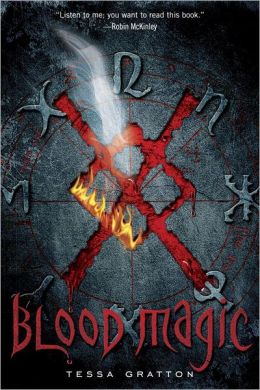 I winced when I read the promotional materials for Tessa Gratton's Blood Magic, which describe the book as "A natural next-read for fans of Stephenie Meyer". I am not one of said fans, so this news was not enticing. Having now read the book, let me reassure my fellow Twilight anti-fans that Blood Magic is a gore-splattered, intense YA novel without so much as a hint of love triangles, magical imprinting, or sparkly vampire action.

Blood Magic is written from the alternating POVs of two teenagers: Silla Kennicott and Nick Pardee. Silla has felt utterly lost since the death of her parents, so when she receives a mysterious book of spells written in her father's handwriting, she decides to try one, hoping to feel some connection to her family. Nick—the only new face in a small town—is immediately attracted to Silla, but her attempts at blood magic are growing increasingly dangerous... and, much to Nick's confusion, dragging up disturbing, foggy memories from his earliest childhood.

If you're the kind of paranormal fiction fan who likes your YA novels heavier on the horror than the romance, this book's for you. Blood Magic features animal sacrifice, body-snatching, and oodles of blood-letting (which actually felt pretty ho-hum in short order), as well as several historical sequences featuring a twisted mentor/student relationship that reminded me of Anne Rice's Interview With the Vampire. The author never seemed as invested in developing the romantic elements of her novel, which meant Nick and Silla's passion felt rushed and arbitrary. Still, Ms. Gratton writes well (although she occasionally tries too hard for "lyrical"), and I'm interested in checking out more of her work—although I think I'd be even more interested if she dropped the halfhearted attempt at writing YA romance and went straight for the horror jugular.

Note: Technically, Blood Magic does have a sequel (last summer's The Blood Keeper), but it appears to be a standalone "companion novel", rather than an extension of the first story.

Review based on publisher-provided copy.