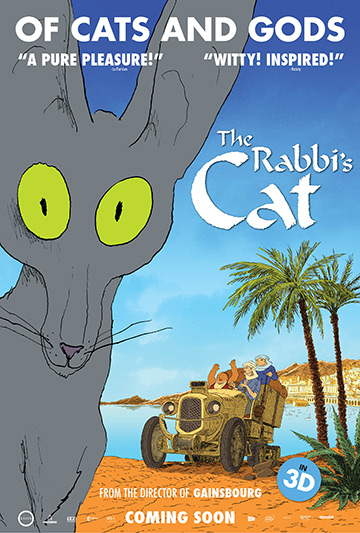 I was recently sent a DVD screener of
The Rabbi's Cat
, a 2011 animated film adaptation of Joann Sfar's graphic novel of the same name. I'm no film critic, and my previous experience with Sfar's work is limited to reading his sword-and-sorcery-on-drugs series
Dungeon
(which he co-created with Lewis Trondheim, and I have always found more exasperating than amusing), but I'll try anything once.
The Rabbi's Cat
was co-directed by Sfar and Antoine Delesvaux. It's 89 minutes long and in French with English subtitles. The rambling, frequently surreal story is set in 1920s Algiers. When the titular cat eats a parrot, he gains the ability to speak, and immediately uses his new talent to lie about the fate of the missing bird. Incensed by his pet's dishonesty, his master refuses to allow the cat to spend time with his favorite human: Zlabya, the rabbi's lovely daughter. The cat is determined to be reunited with Zlabya, so he decides to convert to Judaism to impress her father... although he doesn't see why he shouldn't demand a bar mitzvah while he's at it.
This fantastic situation, which most of the film's characters accept without blinking, is only a small portion of the movie. The rest of the story meanders through several of the cat and his master's additional adventures, including the discovery of a man hidden in box of religious texts smuggled out of Russia, the rabbi's struggle to transcribe religious dictations in French, and a trek through Northern Africa in search of a fabled "African Jerusalem". (There's a random encounter with Hergé's Tintin, too.) None of these storylines are given the chance to develop much emotional weight, so I spent most of the movie wondering when—if ever—the narrative was going to build to a climax. While the various plot threads do eventually boil down to a final dramatic sequence, the previous 80-odd minutes of scattershot storytelling prevent it from making much of an impact.
Still, if you abandon any expectation of a conventional movie format, there's a lot to enjoy about
The Rabbi's Cat
. The film is gorgeous, full of rich, warm colors, detailed backgrounds, and charmingly idiosyncratic character design. The music is excellent, the story displays flashes of humor (who doesn't enjoy the sight of goats in a tree?), and the cat is an appealing protagonist, viewing every situation through a lens of feline self-absorption.
The Rabbi's Cat
is not suitable for children (there's a fair amount of violence, both realistic and stylized, as well as a brief display of cats mating that I sincerely wish I could un-see), but older teens and adults with a taste for ambitious, exotic animation should definitely check it out.
Review based on unsolicited preview screener. For more information on the film, please check here.
No new comments are allowed on this post.