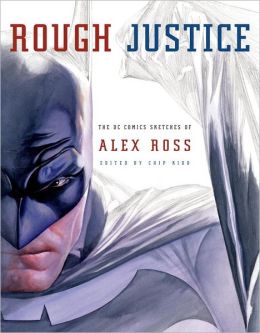 Comic book artist Alex Ross is best known for his work on Kingdom Come, a 1996 DC miniseries about a group of middle-aged superheroes battling a gang of new, amoral vigilantes (including, in some cases, their own children). Pantheon Books recently released a paperback edition of Rough Justice, a collection of images pulled from Ross's private sketchbooks, deleted scenes, and published work.

Edited by Eisner Award-winner Chip Kidd, Rough Justice includes drawings and altered panels from Kingdom Come, Ross's proposals for revamping classic DC characters like Batgirl and Captain Marvel, and sketches of pretty much the entire DC pantheon—everyone from Wonder Woman and Superman to obscure characters like Plastic Man and Hawkgirl (who sports quite the costume, by the way). The images are accompanied by Ross's commentary, sharing his thought processes, artistic inspiration, and the behind-the-scenes publishing decisions that affected his work.

While Rough Justice is clearly aimed at Ross's many fans, general art lovers should appreciate it as well. The book serves as a celebration of the staggering amount of work that obviously goes into Ross's art, from the original sketches to the finished—generally painted—product. With his precise, almost photo-realistic style, Ross usually works as a cover artist, but no matter how detailed or elaborate his images become, he never despises his roots: high-impact visual dramatics designed to separate 13-year-old comic book geeks from their allowance money.

Review based on publisher-provided copy.
No new comments are allowed on this post.