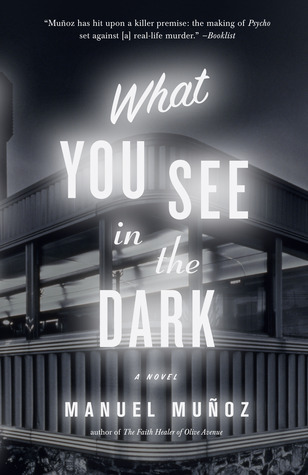 It's been several days of teen-oriented books, so today was time for a literary palate cleanser. After poking through some of the older titles on our "To Be Read" shelves, I pulled out Manuel Munoz's 2011 book What You See in the Dark, equally attracted by the novel's absolutely stunning black-and-white cover art and its official description, which sounds about as far from most YA novels as you can get: "Part noir thriller, part love story, part exploration of the dark side of the American dream."

What You See in the Dark weaves together three storylines set in Bakersfield, California, 1959: a doomed affair between a Hispanic girl and her white, small-town-dreamboat lover, a middle-aged waitress whose business is certain to dry up as soon as I-5 is completed, and Alfred Hitchcock and Janet Leigh (referred to in the story only as "The Director" and "The Actress"), who are using Bakersfield as a location for their scandalous new movie, Psycho.

What You See in the Dark is a fast, lyrical read, with period atmosphere coming out of its ears. One wonders how much Munoz identifies with Hitchcock—his book features more than one scene dealing with the famous director's obsession with background detail, and that's obviously one of Munoz's strengths as well. Unfortunately, he devotes less time to creating a well-defined plot, which makes What You See in the Dark feel more like an assortment of impeccably-drawn character sketches than an actual novel. Don't get me wrong, I'm a huge fan of all that style... but here's hoping Mr. Munoz's next book makes room for a little substance, too.

Review based on publisher-provided copy.
No new comments are allowed on this post.