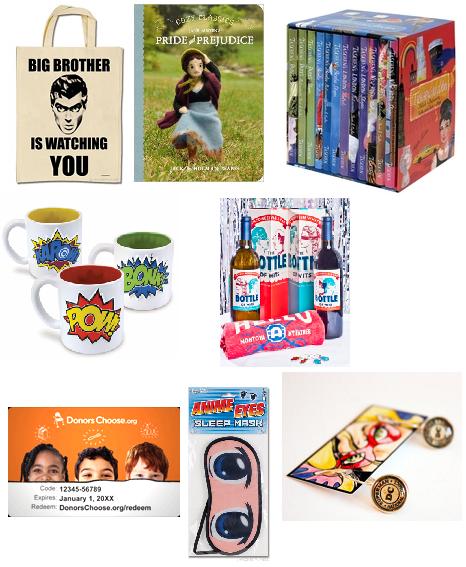 It's time for our annual Holiday gift suggestions, dear readers, and we're totally proud of ourselves for A) choosing reasonably affordable stuff, and B) getting this list out before December 20th. (We aim high.) Anyway, here you go:
For the manga fan:
"Anime Eyes" sleep mask
, $4.53
For the world traveler:
Taschen Guide Box Set
, $37.79
For someone who enjoys recreational paranoia:
"Big Brother" reusable shopping bag
, $6.95
For the do-gooder:
DonorsChoose gift card
, any amount
For the Austenite (or, uh, maybe a kid):
Cozy Classics: Pride and Prejudice
, $9.95
For the male comics junkie:
"Pow Bonk Kapow" 3-piece mug set
, $29.95
For the female comics junkie:
Recycled comic book earrings
, $15.00
For the 80s fantasy who also likes booze:
The Ultimate Princess Bride Wine Fan Pack
, $100.00
Happy Holidays!
No new comments are allowed on this post.