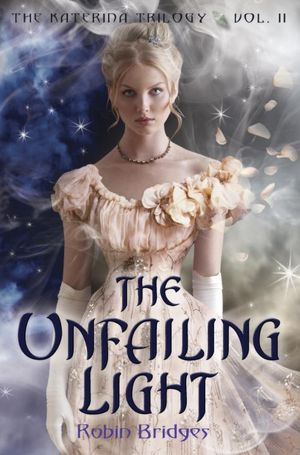 Note: This is our current Weekly Book Giveaway title.
The Unfailing Light
is the second book in Robin Bridges's
Katerina
trilogy, following rapidly on the heels of last winter's
The Gathering Storm
. This installment is less ambitious than its predecessor, but the series as a whole has a lot to offer fans of historical YA fantasy, including an appealingly intelligent heroine and an unusual late-19th century Russian setting.
When the Russian Imperial Court discovers that young Katerina Alexandrovna, Duchess of Oldenburg, is a necromancer, her lifelong dream of attending a foreign medical school is over. Instead, she is forced to return to her expensive finishing school, the Smolny Institute, for her "own protection"... as well as the Court's convenience. Now one of the oldest girls at Smolny, Katerina divides her time between classes, brooding over her future, and despairing over her love life (she continues to share a blood bond with the vampiric Prince Danilo, although her heart belongs to the Grand Duke George Alexandrovich). Unfortunately, Katerina's safety isn't guaranteed, even at Smolny—the school is being terrorized by a vengeful ghost, and it proves to be even more dangerous than the monsters Katerina has already fought.
My favorite thing about this series is its 1880s St. Petersburg setting, although I frequently found myself wishing Bridges had done something more creative with her menagerie of monsters—her zombies, witches, fairies, and sorcerers (even when given fancy-sounding Russian names) lack the punch of the location-specific creations featured in Sarah Zettel's
Dust Girl
or Kat Richardson's
Greywalker
books. Still,
The Unfailing Light
is another perfectly respectable entry in an enjoyable, if not hugely memorable, series, and I'm looking forward to reading the final installment.
Note: I
do
want to complain, however, about the cover image featured on
The Unfailing Light
. That model's waist is the same width as her head. I realize that 19th century corsets did some pretty insane body-sculpting, but that's just
gross
.
Review based on publisher-provided copy.
No new comments are allowed on this post.