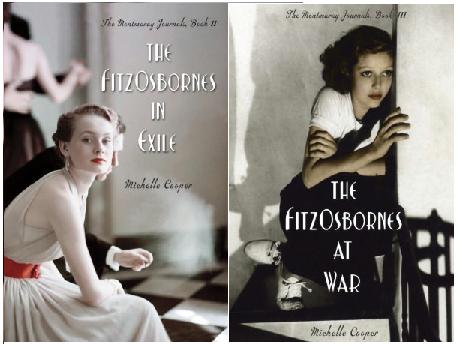 I opened the second and third books in Michelle Cooper's
Montmaray Journals
trilogy in exactly the right mood to appreciate them. I had just finished the final book in Nora Roberts' most recent series, and I seriously cannot recall a lazier piece of writing: Roberts's
Inn BoonsBoro
trilogy combines recycled characters with done-to-death plots, turns the whole series into a 1000-page-long brochure for her new hotel, and has the gall to charge sixteen dollars per book to read it. In comparison, Cooper's series is a testament to creativity, historical research, and sheer hard work—it isn't always
fun
reading, but it's never, ever lazy.
The second book in the trilogy,
The FitzOsbornes in Exile
, picks up immediately after
A Brief History of Montmaray
left off, and covers the years 1937 through 1939. The final installment,
The FitzOsbornes at War
, is set between 1939 and 1944. The entire series is told via the diary entries of thoughtful, observant Sophie FitzOsborne, a member of the royal family of the "impoverished and inconsequential" island kingdom of Montmaray. When Montmaray is overtaken by the Nazis (not a difficult task, seeing as the island boasts more chickens than human inhabitants), Sophie, her siblings, and her cousins are sent to live in England with their aunt Charlotte, where they remain throughout World War II.
Unexpectedly, I liked the middle book in Cooper's series best. Middle books are tough—they need to move the overarching plot forward, but should also feature an internal story that stands on its own merits.
The FitzOsbornes in Exile
handles that balance beautifully, and it also offers the last glimpse of this memorable group of characters before their lives are permanently changed by the events of World War II.
The conclusion of the series,
The FitzOsbornes at War
, is just as well-written and engrossing as its predecessors, although the story's deepening (and frequently justified) sense of dread made reading it tough going. Cooper does a superb job of weaving together fact and fiction, and while some of her plot twists initially seem far-fetched, she provides ample explanation for them. (Even the happily-ever-after seemed remarkably, er, broad-minded for the period, but there's no denying Cooper has created the kind of characters who would embrace it.)
Cooper's books are a great example of what YA fiction
should
be—as challenging and informative as they are entertaining. Older teens and adults with an interest in World War II are sure to enjoy
The Montmaray Journals
, particularly if they're in the mood for a fact-rich, creative, intensely personal take on historical material. And if they need some help getting into that particular mood, might I suggest reading Nora Roberts's most recent trilogy? Trust me, it works.
Review based on publisher-provided copy.
No new comments are allowed on this post.