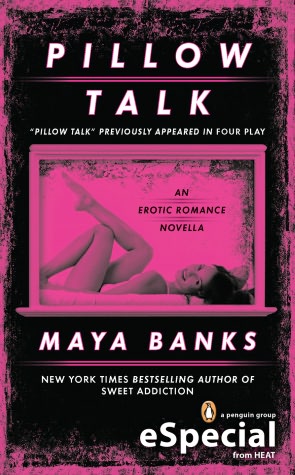 Speaking of the
erotic-novel publishing frenzy
ignited by
Fifty Shades of Grey
,
Publishers Weekly
informs me that Penguin's Berkley Books imprint has picked up an erotic trilogy from romance novelist Maya Banks. Ms. Banks was apparently paid
seven figures
for the deal, so I'm assuming Penguin's expectations for this series are sky-high. I'd
like
to assume that it's also a testament to their faith in the quality of Ms. Banks's writing, but... um, no promises.
The first book in the trilogy,
Rush
, is due out in February 2013, and according to the article the series will center around three male business partners who "dominate in both the boardroom and the bedroom". (Here's hoping that phrase doesn't indicate the quality of the writing in the books, because: urgh.)
Note: I'm sincerely impressed by the hideousness of some of this author's previous covers. (Trust me, the attached image for this post is the best of the bunch.) Check
this one
out. Do you suppose that image and font came from a pre-existing ad for a male stripper, or did they need to make a fresh one?
No new comments are allowed on this post.