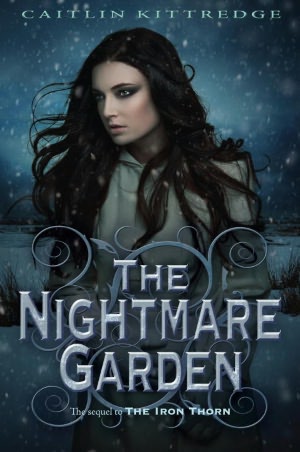 Caitlin Kittredge's
The Nightmare Garden
is the sequel to
The Iron Thorn
, which I
reviewed
last year. Like its predecessor,
The Nightmare Garden
is a steampunk-infused fantasy set in an alternate-universe version of 1950s New England. It's the continuing (mis)adventures of Aoife Grayson, the half-Fae, half-human girl who was manipulated into destroying the Lovecraft Engine, the machine that simultaneously protected and enslaved an entire city. Aoife is determined to right her past wrongs, but she has no idea how to go about doing so—or what fresh disasters she might incur along the way.
As middle installments go,
The Nightmare Garden
is remarkably satisfying. The book features plenty of action and suspense, and while the climactic scene fell slightly flat, the build-up to it generated sufficient plot to justify the story's existence. (Note: This is not always the case, particularly when it comes to middle books in YA series.) I was disappointed that the secondary characters from the first book—Cal and Bethina—played such a small role in this installment, but new characters were introduced that proved to be nearly as interesting.
I'm reserving judgment on the overall quality of this series until the final installment comes out, but I'm already giving Kittredge full props for inventiveness. I've read plenty of books with more appealing characters and better-organized story structure, but Kittredge's series has plot coming out of its ears. The
quality
of that plot might be inconsistent, but Kittredge—like a good pulp fiction writer of yore—clearly understands the value of creating an interesting world, stuffing it with non-stop action, and setting up high-stakes risks. The end result might feel like a bizarre mash-up of Holly Black's books with
The Golden Compass
, but I applaud the effort.
Review based on publisher-provided copy.
No new comments are allowed on this post.