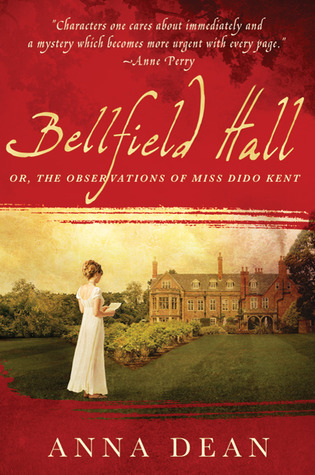 After reading a
glowing review
on
AustenBlog
, my hopes for Anna Dean's 2008 novel
Bellfield Hall
were high. Sadly, I was underwhelmed. There was nothing hideously wrong with the book, but Dean's various elements never gelled into a compelling whole.
Alternating between letter format and straightforward storytelling,
Bellfield Hall
is the first novel in a series featuring Miss Dido Kent, an upper-middle-class spinster living in Regency England. When Richard Montague disappears after abruptly breaking off his engagement to Dido's niece Catherine, Catherine demands her clever aunt's assistance with locating him. Shortly after Dido arrives at Bellfield Hall, the Montague family's estate, the mystery deepens—an unidentified young woman is found murdered on the grounds. No one, except Dido, seems to suspect the two incidents could be related, but that might be because the various inhabitants of Bellfield Hall are all busy keeping secrets of their own.
While the central mysteries in
Bellfield Hall
were intriguing, Dean overemphasizes the clues scattered throughout her storyline (which made the mystery feel juvenile), and her character development relies too heavily on exposition. Characters are constantly marveling at Dido's intelligence and common sense, but I didn't see much evidence of either. Most of the clues Dido uncovers were obvious, so I was less impressed by her brilliance than the stupidity of everybody else. As for her vaunted common sense, I found myself hoping that Dido's romance with Bellfield Hall's estate agent continued to develop at a snail's pace, lest they (shudder) marry and reproduce. Both characters are clearly
terrible
at raising children—Dido reared her obnoxiously spoiled niece, while the estate agent's son's antics border on the criminal.
Despite these criticisms,
Bellfield Hall
was intermittently quite entertaining. Dean does a solid job of describing her country-house setting, and I found Dido's primary mode of investigation (questioning the servants) more plausible than the wild exploits in
Stephanie Barron
's otherwise-superior
Jane Austen mysteries
. I even enjoyed myself sufficiently to consider hunting down the sequel... although I'll wait for it to turn up at the library, rather than purchasing it or requesting a review copy. Ms. Dean has talent, but here's hoping her next book offers more than period charm, a mediocre mystery, and a passable imitation of Regency-era correspondence.
No new comments are allowed on this post.