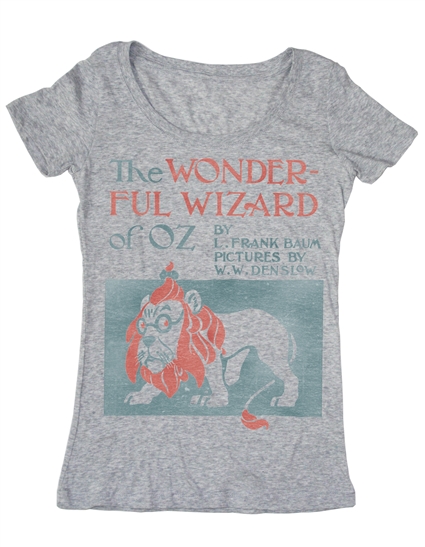 If you spend a lot of time in indie bookstores, you've probably already seen the line of t-shirts, fleeces, and bags created by
Out of Print Clothing
. Out of Print's products feature a variety of classic-book-cover-inspired images, and they're about to release
several new designs
taken from famous children's books:
Harold and the Purple Crayon, In the Night Kitchen, Charlotte's Web, Mike Mulligan and his Steam Shovel, Harry the Dirty Dog
, and
The Wonderful Wizard of Oz
. The shirts are currently available for pre-order, and are expected to ship next week. They're not inexpensive ($28, which I find a little painful for a t-shirt), but Out of Print donates one book to a community in need and supports children's literacy initiatives in the U.S for each product sold.
Plus they're super cute. I already have their
Pride and Prejudice
t-shirt, and I
really
wish they'd make a sweatshirt version of their
Lord of the Flies t-shirt
. Not because I'm particularly fond of that book (who is?), but I like the combination of the soft, comfy shirt with the post-societal-meltdown message.
No new comments are allowed on this post.