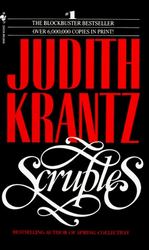 ABC has
green-lit an adaptation
of Judith Krantz's 1978 best-seller
Scruples
. I have never read anything by Ms. Krantz, but the book sounds luridly entertaining:
The novel details the life story of protagonist Wilhelmina Hunnewell Winthrop ("Billy"), as she evolves from the overweight "poor relation" in an aristocratic Boston Brahmin family to become a thin, stylish woman who is left a vast fortune by the death of her much older first husband and who founds an upscale Beverly Hills boutique...
(Thank you,
Wikipedia
.) This won't be the first time Ms. Krantz's work has been adapted for TV. (Actually, it won't even be the first TV adaptation of this particular novel.) There was a steady market for Krantz-inspired TV miniseries throughout the eighties; we'll have to see if her stories are as successful in the post-
Keeping Up With the Kardashians
era.
No new comments are allowed on this post.