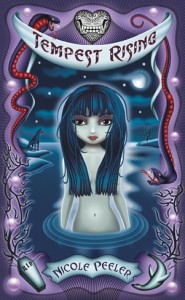 The cover art for Nicole Peeler's
Jane True
series is a perfect fit for the books: eye-catching, cartoonish, charmingly goth-lite. Also like the books, the covers would be improved by a bit less cuteness and sharper teeth, but we should give credit where credit is due—both Ms. Peeler's books and their covers are much more fun than the majority of today's supernatural romances.
The first installment in the series,
Tempest Rising
, introduces Jane True, a lonely bookstore clerk living in a small town in Maine. Jane has always been a remarkable swimmer, but it isn't until she meets some
very
strange people that she realizes her aquatic skills are literally superhuman—her long-lost-mother was actually a selkie. Jane's new friends (a gnome, a kelpie, a barghest, and an extremely flirtatious vampire) give her a crash-course in supernatural relationships, but they are unwilling or unable to explain why half-humans like Jane have been turning up dead.
Peeler has done right by her heroine. In four volumes, Jane has encountered not one but two(!) genuinely appealing love interests, and she has a bevy of awesome female friends. (Supernatural romances too frequently go for the male-harem approach, making the heroine the only female character of note.
Laurell K. Hamilton
is probably the most infamous example of this, but trust us: there are plenty of others.) We were also charmed by Peeler's combination of high-minded literary references and profanity-spewing diatribes, never assuming that her audience is too stupid to understand the one, or too delicate to snicker at the other.
But our favorite thing about this series thus far is its romantic story arc, which has taken Jane through one complete—and reasonably healthy—love affair and moved onto another. It is
so
nice to read a story without a tortured love triangle, and it is even nicer to see a heroine refuse to compromise on something that really matters to her in order to snare a guy... even when the guy in question is hot, rich, and supernatural. In Jane True's world, there are more hot, rich, supernatural fish in the sea, and we really enjoy meeting a character smart enough to realize it.
Posted by: Julia, Last edit by: Julianka
No new comments are allowed on this post.