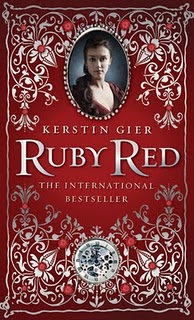 While most of the books I write about are sent to us by publishers or PR groups, occasionally I read something so awesome that it cries out for a review, even if I had to spend my own money to buy it. Such was the case with Ruby Red, the first book in Kerstin Gier's time-traveling YA trilogy of the same name. It cost me $16.99 (it wasn't even on sale!), but it's seriously great.

16-year-old Gwyneth Shepherd routinely chats with ghosts, but her secretive, powerful family is only interested in one type of supernatural ability: time travel. Everyone assumes Gwyneth's cousin Charlotte is the recipient of the family's time-traveling gene, so Gwyneth has enjoyed a relatively normal childhood while Charlotte has received extensive training on how to speak, dress, and behave in a variety of time periods. Unfortunately for Gwyneth, her knowledge of history (gleaned mostly from watching Cate Blanchett films) is put to the test when it becomes clear that she, and not Charlotte, has inherited the family "gift"—but as she scrambles to get a grip on the past, it becomes increasingly clear that there are mysteries surrounding her family in the present, too.

The plot twists in Ruby Red were obvious, and waiting for the second and third novels in the series will undoubtedly drive me nuts (particularly since they've already been published in the original German, while I have to wait for the English translation). But these are minor problems, and none of them occurred to me while I was actually reading the book—I was having too much fun soaking up the fish-out-of-water humor, the seeds of romance, and the charmingly levelheaded heroine, who faces her dangerous adventures with bravery and optimism… even if she's secretly determined to take her best friend's "no more time travel without pepper spray" advice.

My edition of Ruby Red identifies the book as an international best-seller, but it doesn't seem to have made much of a splash in the United States yet. I can't find a specific release date for the next book (just "Spring of 2012"), or even an English-language Wikipedia page about the author. This is all very sad, but at least it makes me feel better about having to both review a book and pay for it—it was a sacrifice, true, but I want you guys to know that no price is too great to stop me from sharing super-fun YA books with our beloved readers. Not even $16.99.

Posted by: Julia, Last edit by: Julianka
No new comments are allowed on this post.