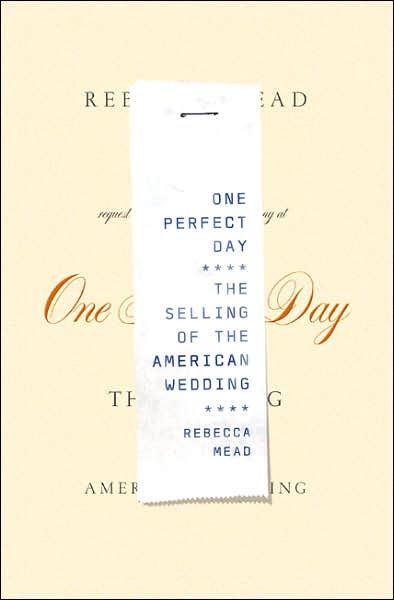 Do
not
give Rebecca Mead's 2007 book
One Perfect Day: The Selling of the American Wedding
to anyone who has recently had a wedding*. Trust me, it will only depress them, and who wants to embark on married life glumly conscious of the fact that nearly every element of their wedding celebration was an artificial construct designed by a bunch of clever ad writers?
Ms. Mead, a staff writer at
The New Yorker
, spent three years researching the American bridal industry, and her book takes an in-depth look at the backgrounds of a number of wedding-related sacred cows. She interviewed dozens of wedding professionals, traveled to China to see how wedding dresses are made, and visited "destination wedding" hot spots ranging from the vulgarity of Las Vegas to the schmaltz of Walt Disney World to the manufactured folksiness of Gatlinburg, Tennessee. The result is a depressing-but-informative account of a booming and utterly shameless industry.
Few of the "traditions" Ms. Mead investigates go back further than the mid-20th century: white wedding dresses weren't commonplace until after the end of World War II, diamond engagement rings were popularized by the 1947 ad campaign "A Diamond is Forever", and the first wedding registry was established by Marshall Field & Company in 1924. However, the wedding industry relies upon treating these trappings (as well as an ever-increasing list of new ones) as prerequisites for marriage—and they have gotten extraordinarily good at suggesting that if you don't have a wedding videographer or hand-beaded dress or keepsake "heirloom" ornament for your flower girl, your marriage is doomed.
Don't get me wrong: the desire to have a big wedding is perfectly understandable. At what other time in your life is it going to be socially acceptable to spend fourteen to sixteen months—the length of the average American engagement—and nearly $28,000—the average cost of getting married in 2006—planning a day that is All About You? But while I sympathize** with the desire to spit in the eye of financial reality by spending seven months' salary on a one-day event, it's probably best that prospective brides and grooms decide which elements of their wedding are actually meaningful to them. That's why I'm recommending Rebecca Mead's
One Perfect Day
as an
engagement
gift—the newly married may have already lost out, but there's no reason for the fresh blood to suffer.
*Unless it was the wedding of someone you dislike. In that case, hey, Christmas gift!
**Actually, I totally don't.
No new comments are allowed on this post.