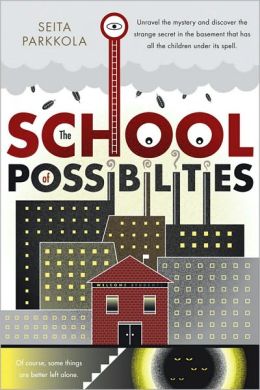 The School of Possibilities
is the English translation of Seita Parkkola's award-winning novel
Viima
, originally published in Finland in 2006. While the book isn't perfect, it is an unusually ambitious and thought-provoking horror novel aimed at middle-school-age readers.
Storm Steele has been misbehaving in a variety of minor ways, but his stepmother insists it's only a matter of time until he dissolves into full-blown delinquency. Convinced, Storm's father enrolls him at the School of Possibilities, a local reformatory with a unique approach to rehabilitation. Storm's new teachers assign him several new hobbies and a "best friend" who wavers between zombie-like good behavior and flashes of intense cruelty. Whenever Storm misbehaves (and even sometimes when he doesn't) a new line is added to a hangman-style drawing. When the image is complete, he receives his first punishment—a "girlfriend" who reports on his every move to school administrators. At first, Storm is desperate to return to his old life, but it isn't easy to maintain his sense of self, and he begins to buckle under the intense pressure to conform.
The
original cover art
for this novel emphasized its horror vibe, but the English-language edition plays up the fantastic nature of Parkkola's plot, which combines a brainwashing storyline with dashes of magical realism. Unfortunately, the final section of
The School of Possibilities
doesn't do the rest of the book justice—the ending is relatively happy, but the disjointed and clunky "big reveal" doesn't live up to either the fantasy or horror elements of the novel's first three-quarters.
Still, well-written horror stories for middle readers are not so common than we can afford to reject an otherwise excellent book over a few flawed chapters.
The School of Possibilities
is smart, scary, and stylish, with a plot that emphasizes individuality and personal responsibility without getting obnoxiously preachy about it. In a field dominated by Harry Potter rip-offs and PG-rated takes on
Twilight
, that's a rare and enjoyable combination.
Review based on publisher-provided copy.
Posted by: Julia, Last edit by: Julianka
No new comments are allowed on this post.