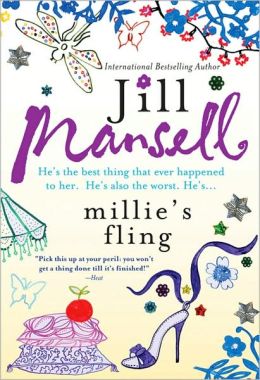 British author Jill Mansell never takes herself too seriously, and we here at Wordcandy are grateful for it. Her latest effort, Millie's Fling, is classic Mansell: sweet, sunny, and cheerfully ridiculous.

When Millie Brady finds best-selling author Orla Hart contemplating suicide on a lonely clifftop in Cornwall, she rushes to save her... or at least convince her to write a will first, lest Orla's skeezeball husband inherit her vast fortune. Grateful for Millie's intervention, Orla makes her an unexpected offer: Millie will be paid to tell Orla all the details of her very ordinary life, and Orla will use the stories as the basis for her next novel. Orla has the best intentions, but it isn't long before she starts acting like a demented fairy godmother. She decides to make her new friend's life into something worthy of a romance novel—oblivious to the havoc she's playing with Millie's secret crush on software developer Hugh Emerson.

Apart from a few startlingly repulsive descriptions*, the biggest problem we had with Millie's Fling is the same one we've had with Nora Roberts' recent books: if you're writing a romance novel featuring two sane, pleasant people who totally dig each other, how do you find enough drama in their relationship to fill 400-odd pages? Roberts has handled this dilemma by giving her protagonists some credulity-straining emotional hangups (i.e., "I never got over my parents' amicable divorce, so I don't believe in romantic love!"), but Mansell just stuffs in a dozen subplots and shrugs off the flimsiness of her central plot device.

Somewhat to my surprise, I liked Mansell's quirky, sprawling approach to the "not enough drama" issue better than Roberts's more concrete one. Filling up her page count with the antics of a zillion assorted subplots could feel like cheating, but Mansell's minor characters are all fun in their own right (some more so than the primary couple), and I found that I'd rather read 50 pages' worth of Orla's antics than 50 pages' worth of Roberts' characters stressing over a made-up obstruction in the path of True Love.

*The line "lips pursed like a cat's bottom" is going to haunt me for weeks.

Posted by: Julia, Last edit by: Julianka
No new comments are allowed on this post.