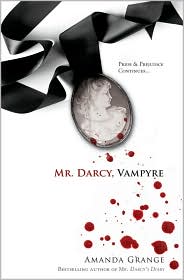 Jane Austen continuations and vampire romances have been two of the great literary success stories of the past five years, so we're actually a little surprised we haven't already seen a combination of the two. Happily, bestselling author Amanda Grange has stepped up to fill this void, and while her novel Mr. Darcy, Vampyre has its faults, we are pleased to report that it is very entertaining indeed.

Mr. Darcy, Vampyre opens just before the final chapter of Pride and Prejudice. Elizabeth and Darcy are about to be married, and Elizabeth is looking forward to the start of a long and happy married life. Things get off to a rough start, however, when Darcy informs her that their planned honeymoon in the Lakes District has been swapped for a visit to his relatives in France—a magnetic, secretive group who reacts to the news of Darcy's marriage in some very strange ways....

Grange's novel would have been improved by some judicious editing early on, as entire set pieces should have been cut. We sympathize with the author's desire to allow Elizabeth and Darcy to attend a Venetian masked ball, but the glamorous impact of the scene was dampened by the fact that Grange had already subjected her readers to several scenes of decaying French aristocracy, a mysterious castle in the mountains (complete with torch-bearing mob!), and a treacherous trip through the Alps. One or two of these settings would have been enough to carry the novel, and the author would have been well-advised to have chosen her favorites and stuck with them. Instead, Grange devotes 99% of her novel to Elizabeth and Darcy's travels and ends up stinting her readers big-time on the climax, which is barely long enough to tie up the story.

On the other hand, the pleasures of Mr. Darcy, Vampyre are not dependent upon a neatly tied-up plot. This novel is the literary equivalent of a really fun covers album: more graceful tribute than original work. Grange borrows elements from nearly all of the great Gothic writers of the 19th century, tying them together with one of literature's most beloved couples. The book overflows with references to the work of the Bronte sisters, Ann Radcliffe, Bram Stoker, and Mary Shelley, connected by an underlying story that stays focused on Elizabeth and Darcy's troubled romance—will she ever get past his reserve? Will he ever succumb to his baser passions? (SPOILERS: Yes. And yes.) We couldn't recommend this book to anyone unfamiliar with Pride and Prejudice or the 19th century Gothic cannon, but that isn't who this book is written for anyway. Instead, Mr. Darcy, Vampyre is a clever and well-written in-joke aimed squarely at Austen devotees, and we're confident that Grange's target audience will enjoy themselves.

Posted by: Julia, Last edit by: Julianka
No new comments are allowed on this post.