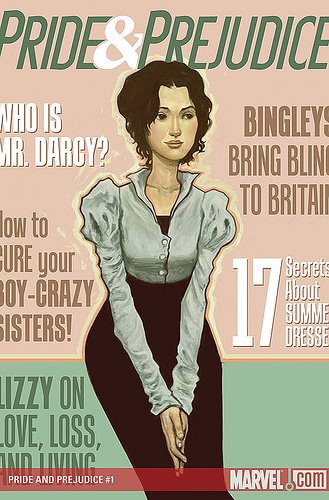 Well, I just got the second issue of Marvel's
Pride and Prejudice
comic book, and I think it's even worse than the
first one
. I'm not sure where to start with my complaints, so I'll just type 'em up as they come to me:
1. The artwork sucks. Seriously, what is wrong with the way they draw the characters' lips? I think all the shading is supposed to suggest an attractive glossiness, but it just looks like everybody has crazy fish lips, and it's totally distracting.
2. The second cover wasn't as good as the first one (at right). I can't find a picture that includes the
Cosmo
-style headlines, but they include "Spring's Randiest Ribbons!". Um... "randy" doesn't mean "sexy", Marvel. It means "lecherous" or "aroused", and "Spring's Most Lecherous Ribbons" just doesn't make any sense. You might want to stop using Austin Powers as your British-English dictionary.
3. They fiddled with the scene where Mr. Bennet makes fun of Mary at the ball, making him less snide. The point of this scene, as I understand it, is that they
both
come across badly: Mary for being a show-off, and Mr. Bennet for being a jerk. That isn't communicated here, which means that a telling bit of character development for an important character (Mr. Bennet, not Mary) is lost.
4. They open with a written introduction featuring the following line:
"Having no particular desire to wed, [Elizabeth] has busied herself with interests, while keeping a keen eye on males suitable for her older sister, Jane."
This makes me nuts. I get the feeling that Marvel is trying to imply that Lizzy isn't boy-crazy, but this line obscures a fairly critical point:
every single one
of the Bennet girls is hoping for marriage.
Look, without money or rich relatives, the Bennet sisters are looking at two choices: marriage or semi-genteel poverty, further complicated by the entail on their father's estate, which means they'll have nowhere to live after his death. Understandably, Lizzy isn't a big fan of the "homeless and poor" option, so she definitely has a "particular desire" to wed. That doesn't make her silly or infatuated, it makes her
sane
.
No new comments are allowed on this post.