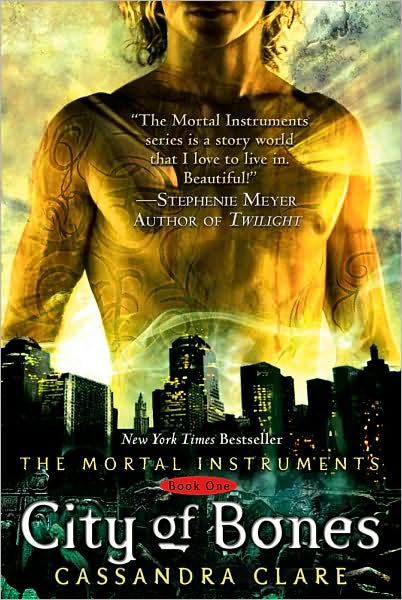 Cassandra Clare's
City of Bones
, the first book in her
Mortal Instruments
trilogy, has a lot going for it: the twists and turns of the plot make sense, the dialogue is lively, and—unlike so many YA authors—Clare does her best to develop her characters, rather than just (
*ahem*
) name-dropping the brands of their clothing*. In the New York of
City of Bones
, vampires, werewolves, and demons are lurking all over the city, unnoticed by everyone but the Shadowhunters, a secretive, highly trained group of monster slayers. 15-year-old Clary Fray has always considered herself as a normal girl, but when she comes across a trio of tattooed teenagers killing a demon that only she can see, she is drawn into the Shadowhunters' world. Apart from a plot twist late in the novel that any
telenovela
fan will see coming a mile away,
City of Bones
is reasonably entertaining. It isn't as funny as Rosemary Clement-Moore's "Maggie Quinn: Girl Vs. Evil" series or as darkly dramatic as
Holly Black
's books, but it is readable enough, with solidly constructed characters and a creative storyline. The third and final book in this series just came out, so urban fantasy fans won't have to wait if they'd like to check these out.
*The heroine wears green Converse, but we'll give her that one.
No new comments are allowed on this post.