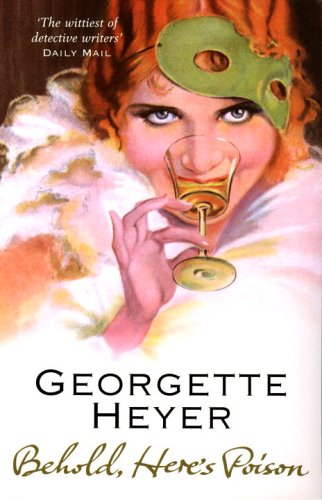 Behold, Here's Poison
features one the most creative weapons in murder-mystery history, and is my favorite of the three Heyer novels we've reviewed in the past week.
Why Shoot a Butler?
and
The Unfinished Clue
are wonderful... but [
SPOILER!
] there's just something special about a story featuring poisoned toothpaste.
Originally published in 1936,
Behold, Here's Poison
opens at the Poplars, the country home of the Matthews family. When the head of the family, Gregory Matthews, is found dead, his family assumes his bad heart is to blame. But when the police discover signs of nicotine poisoning in the dead man's mouth, the surviving Matthews—Gregory's two sisters, his sister-in-law, and his niece and nephews—become the lead suspects in Scotland Yard Inspector Hannasyde's newest murder case.
While Heyer provides several plot-based red herrings, most of this novel is driven by its characters.
Behold, Here's Poison
features a host of memorable creations, including domineering Aunt Gertrude, the magnificently hypocritical Mrs. Zoë Matthews, whose unfailing sweetness imperfectly conceals her total self-absorption, and her malicious nephew Randall, whose poisonous tongue
does
conceal a soft spot for one of his cousins.
As longtime readers of the site know, we have always wished for a
Georgette Heyer television adaptation
—but while
Behold, Here's Poison
is one of our favorite Heyers, it is
not
the title we would choose for TV. This is a story about people, not events, and most of its plot points develop during seemingly insignificant domestic conversations. It isn't the kind of thing that results in edge-of-your-seat television, but it makes for a deliciously voyeuristic reading experience.
Posted by: Julia, Last edit by: Julianka
No new comments are allowed on this post.