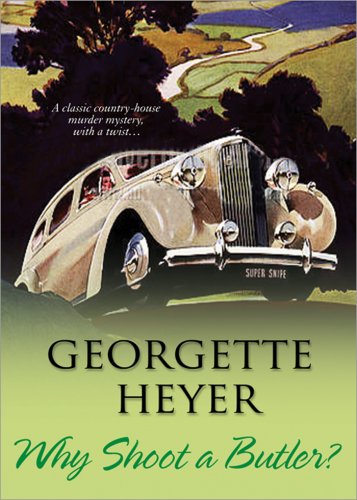 Why Shoot a Butler? is perhaps Georgette Heyer's most conventional detective story. Her murder weapons are unremarkable, her plot centers around a missing will, and her sleuth displays a level of acuity that Sherlock Holmes would be proud of. The novel even ends with a car chase—a rare twist for Heyer, who usually featured less cinematic conclusions.

As the story opens, brilliant London barrister Frank Amberley is driving down to visit his aunt and uncle. When he takes a wrong turn down a quiet country lane, he discovers a murder scene: a parked car with a dead man behind the wheel, and a young woman attempting to slip away unnoticed. The man has just been shot, but the girl swears she didn't kill him. In a distinctly out-of-character move, Amberley accepts her innocence... but she obviously knows more than she's telling, and he is determined to uncover the complete story.

While many of the plot elements in Why Shoot a Butler? are familiar, Heyer's light, stylish touch makes them feel classic rather than overworked. The novel does offer a few original quirks, including a memorable depiction of a young alcoholic. (This unfortunate character's addiction is played straight, and his small role in the story is genuinely shocking.)

Happily, Why Shoot a Butler? also features one of the most delightful romances in all of Heyer's detective stories. The young woman in the opening scene is sulky and secretive, with a chip on her shoulder and a sharp tongue—making her a perfect foil for Amberley, who ranks amongst Heyer's most arrogant heroes. Their frequent clashes are tremendous fun, and add just as much as the murder plot to the entertainment value of this classic mystery.

Posted by: Julia, Last edit by: Julianka
No new comments are allowed on this post.