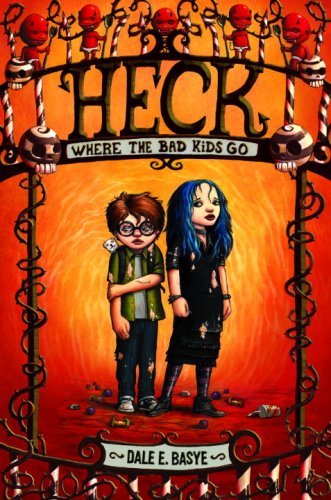 Dale E. Basye, author of Heck: Where the Bad Kids Go, may not be the first person to write a book about an eleven-year-old boy with dark hair and glasses getting shipped off to a bizarre boarding school, but chances are good he's the first author to place said boarding school in one of the nine circles of Hell.

When Milton and Marlo Fauster die in a freak marshmallow-bear explosion, they're sent to Heck, an otherworldly reform school for juvenile offenders. Heck's teaching staff consists of the ghosts of various evildoers (P.E. is taught by Blackbeard the Pirate, biology by Typhoid Mary, and ethics by Richard Nixon—in room 1972), and ruled by Bea "Elsa" Bubb, Principal of Darkness. It's obvious why hooligan-at-large Marlo has been condemned to Heck for all eternity (or until she turns 18, whichever comes first), but sensible, well-behaved Milton is convinced he must be in the wrong place....

Heck has boatloads of gross-out humor for the twelve-and-under crowd, and enough hipster quirkiness to appeal to their parents. A few overly cutesy jokes and puns fall flat, but ninety-five percent of Bayse's novel is smart, goofy fun.

The final chapter of Heck leaves plenty of loose ends, but Bayse has already started on a sequel. Heck is only one layer of Basye's juvenile afterlife—there are eight more, each one named after a common childhood vice ("Fibble" is where the liars end up, "Snivel" is for the whiners, snitches go to "Dupli-City", etc.). The second book in the series is called Rapacia: The Second Circle of Heck, and will be available next summer. I'm not sure if Basye is planning to write one book for each level (and I'm definitely sure I don't want to wait eight years to finish the story), but he's set the bar high with this wickedly amusing debut.

Posted by: Julia, Last edit by: Julianka
No new comments are allowed on this post.