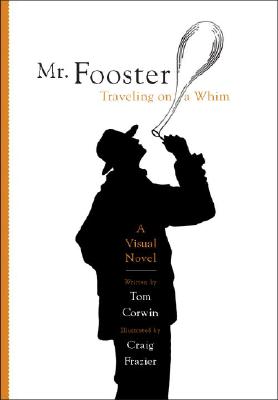 Tom Corwin's
Mr. Fooster Traveling on a Whim
doesn't
quite
live up to its publishers' "Like
Harold and the Purple Crayon
for adults!" hype, but this elegant, unusual graphic novel is undeniably charming.
Mr. Fooster goes for a walk one Tuesday morning, the better to ponder the world around him. His outing gets a little surreal (he meets a bug the size of a bulldozer, he turns into a tree, he blows a soap bubble that turns into a vintage DeSoto, etc.), but Mr. Fooster remains calm—even appreciative—in the face of oddity, and continues his walk, reflecting on everything from skunks to mandarin oranges.
Mr. Fooster Traveling on a Whim
would make a wonderful gift for poetry fans, and many readers will find themselves sharing Corwin's obvious pleasure in words like "ukulele" "katydid", "newt", and "mulberry". Craig Frazier's sturdy, sepia-toned illustrations are a lovely match for the text, and many of the questions Mr. Fooster considers on his walk are fascinating: why
don't
we ever see any baby pigeons? And is there truly no word that rhymes with orange?
Actually, comparing
Mr. Fooster Traveling on a Whim
with Crockett Johnson's
Harold and the Purple Crayon
does
Mr. Fooster
a disservice.
Harold
is a modern classic, brilliant in its simplicity, and nine hundred and ninety-nine books out of a thousand are going fall short in comparison. Corwin's story is more on a par with
Nick Bantock
's
Griffin and Sabine
series: they're both deliciously whimsical celebrations of art, language, and atmosphere, sure to entertain readers of all ages.
Posted by: Julia, Last edit by: Julianka
No new comments are allowed on this post.