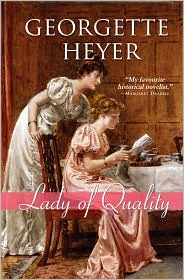 Georgette Heyer's novels Lady of Quality and Black Sheep have a lot in common: both books are set in Bath, their plots center around similar dilemmas, and they each feature a wealthy, unconventional heroine hovering on the brink of spinsterhood (read: women in their late twenties).

At twenty-nine, Annis Wychwood, the heroine of Lady of Quality, considers herself beyond marriageable age, and happy to be so. She's rich, beautiful, and (apart from the very tiresome cousin who acts as her chaperone) blissfully independent. Annis is convinced no man could offer her a life she would value more than her freedom—but sharp-tongued and equally sharp-witted Oliver Carleton might be the perfect person to change her mind.

Abigail Wendover, the 28-year-old protagonist of Black Sheep, is less beautiful, less rich, and much less fancy-free than Annis Wychwood. Unlike Annis, Abigail is loaded down with responsibilities, including caring for her hypochondriac older sister and lovely young niece Fanny, the heiress to an immense fortune. When Fanny falls in love with a handsome fortune hunter, Abby decides to confront the young man's only relative, the shockingly unconventional, strangely attractive Miles Calverleigh.

Black Sheep and Lady of Quality are even irritating in similar ways—both rely heavily on comic relief provided by unmarried fortysomething women, portraying them as elderly, foolish, vaguely pathetic creatures. In annoyingly sexist contrast, these novels present fortysomething men as dynamic, attractive partners for women in their twenties.

Happily, these novels are entertaining enough to make this a minor complaint. Lady of Quality and Black Sheep are witty, satisfying, character-driven romances, and deep-pocketed readers should totally buy 'em both... but if you're only able to buy one, buy Black Sheep first. Lady of Quality is fun, but Black Sheep wins by a nose on all counts: its heroine is a touch more engaging, its humor a hair less spiteful, and its goofy, delightfully over-the-top climax slightly more memorable.

Posted by: Julia, Last edit by: Julianka
No new comments are allowed on this post.