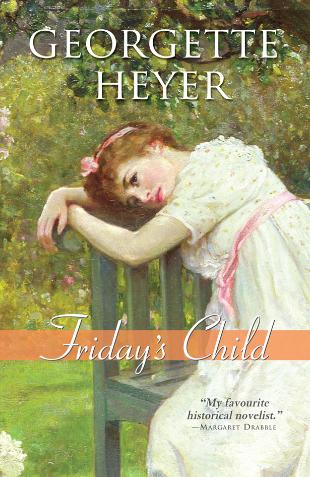 When Lord Sheringham, the hero of Georgette Heyer's Friday's Child, proposes marriage to the beautiful Miss Milbourne, she turns him down flat. Furious (partially because she spurned him, but mostly because marriage would have ended the trust that keeps him from inheriting his father's fortune), Sheringham vows to marry the next female he sees... who happens to be his penniless, orphaned childhood friend, Hero. Sherry whisks Hero off to London and settles down to enjoy his newfound wealth, trusting his very young, very inexperienced bride to find her own way amongst English high society—which, of course, she is wholly unable to do!

Friday's Child is not Heyer's best book. It's funny, and it has a wonderful cast of supporting characters (including Sherry's trio of best friends: sensible Mr. Ringwood, sweet-tempered, dim-witted Ferdy, and the Byronic Lord Wrothham, whose only joy in life comes from calling people out and mooning after Miss Milbourne, who finds him almost as irritating as she found Sheringham), but it lacks the richness and depth found in her finest work.

However, while Friday's Child is a far cry from Heyer's complex, thoughtful A Civil Contract, it does feature an equally true-to-life central conflict: the book includes one or two dastardly villains in bit parts, but the biggest roadblock to Hero and Sherry's relationship is one another. Both of them are immature, and both need to grow up if their marriage is going to work. (Sherry is actually the bigger problem, as Hero is at least aware of her immaturity.) We here at Wordcandy love romances about people growing up, because so many of us can identify with them. Romances that focus on plausible, familiar conflicts are hard to find, and romances that address such issues with the light-hearted humor and charm of Friday's Child are even more uncommon.

Posted by: Julia, Last edit by: Julianka
No new comments are allowed on this post.