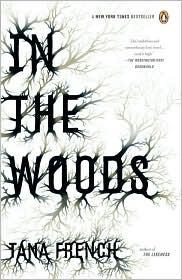 Tana French's bestselling novel In the Woods opens with a never-solved mystery: three children in 1970s Ireland vanish from their suburban neighborhood. One is found, but he has no memory of what happened to his missing playmates. Fast-forward twenty years, and the found boy has grown up to become a detective, and he and his partner have just been assigned a disturbingly familiar murder case in the same woods where he once disappeared....

In the Woods is not flawless. A significant clue is awkwardly introduced into the plot, it's obvious from the get-go that there is More Than Meets the Eye to the villain, and a sizable portion of the story is left unexplained. It's possible that French had some lofty, poetic reason for leaving a chunk of her story untold (a gentle reminder that life is full of unanswered questions, perhaps?), but that doesn't make it any less frustrating for her readers.

However, the few missteps of French's whodunit pale beside her gifts for characterization and pacing, and the staggering beauty of her writing. I've read several attempts to combine genre fiction with a "serious" literary style, but rarely one so successful. French does a note-perfect job of balancing her book's more lyrical passages with direct, hardboiled prose, and she never forgets the importance of telling an entertaining story.
Posted by: Julia, Last edit by: Julianka
No new comments are allowed on this post.