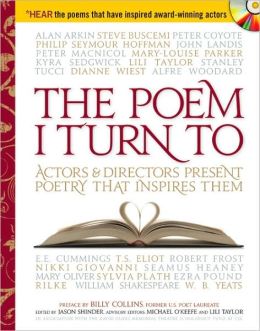 Today is the last day of National Poetry Month, so here's a last-minute offering: a review of
The Poem I Turn To: Actors and Directors Present Poetry That Inspires Them
, edited by poet Jason Shinder.
The Poem I Turn To: Actors and Directors Present Poetry That Inspires Them
is an eclectic collection of the favorite poems of 42 entertainment figures, accompanied by their notes and commentary. The title is slightly misleading—the contributors include novelists, screenwriters, and producers, not just famous Hollywood names. The poetry selections range from well-known favorites to relatively unknown works, and the contributors' commentary features everything from pompous, name-dropping anecdotes to insightful literary analysis. Director Billy Luther's choice was perhaps the most memorable: rather than choosing an official, published work, he chose a fascinating poem written by the star of his documentary
Miss Navajo
, Navajo storyteller (and winner of the "Miss Navajo Nation" beauty pageant) Sunny Dooley.
The appeal of the commentary might vary, but the best part of
The Poem I Turn To
is the attached 30-track CD, which gives listeners the chance to hear poetry read by actors like Stacy Keach, Adam Arkin, and Holland Taylor. Recitation is becoming a lost art, and hearing poetry read by such gifted, beautifully-trained voices is a rare pleasure.
No new comments are allowed on this post.