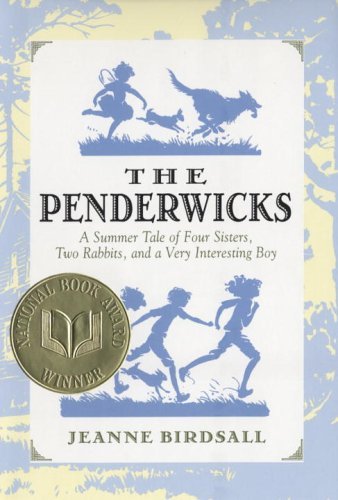 I have long avoided reading Jeanne Birdsall's National Book Award-winning The Penderwicks, mostly because of its tastefully retro cover (which I felt was shamelessly derivative of the silhouette illustrations in The Boxcar Children), but also because its air of overwhelming wholesomeness. But when the fourth child of my acquaintance assured me Birdsall's story was awesome, I decided it was probably time to give her book a shot.

It turns out I should have listened to the first three kids, because The Penderwicks is adorable—nostalgic but not stuffy, sweet but not sappy. It's the story of the four Penderwick sisters, who spend the end of their summer vacation in a cottage on a beautiful estate in the Berkshire Mountains. The girls befriend the owner's son, Jeffrey, and they spend three adventure-filled weeks together. Unfortunately, Jeffrey's mother disapproves of his new companions, and every encounter with the boisterous Penderwick family makes her even more determined to ship her son off to the Pencey Military Academy....

I finished The Penderwicks yesterday, and I'm planning to start on the sequel this afternoon. The Penderwicks on Gardam Street (due out April 8th) deals with an edgier topic: the girls are horrified when, four years after their mother's death, Mr. Penderwick starts dating again. I'm not sure if the old-fashioned charm of Birdsall's writing will translate to more modern subject matter, but I'm eager to find out.
No new comments are allowed on this post.