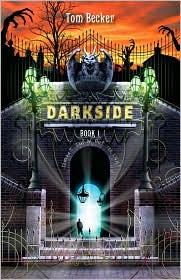 Tom Becker's debut novel Darkside opens with a kidnapping: thirteen-year-old Ricky Thomas is abducted from the middle of Trafalgar Square in broad daylight, and, strangely, none of the hundreds of tourists in the square notice. Ricky's kidnapper takes him into Darkside, a secret, terrifying section of the city populated by werewolves, vampires, and murderers, accessible only by abandoned tube stations and cracks under bridges, and ruled by the descendents of Jack the Ripper.

Ricky, however, isn't the only victim. The kidnapper's next target is a clever, independent fourteen-year-old named Jonathan Starling. When Jonathan's catatonic father is shipped off to an asylum, Jonathan discovers notes about Darkside in his study. Aware that someone is chasing him, Jonathan manages to cross into Darkside and goes in search of his only potential ally—Carnegie, a werewolf mentioned in his father's journal. Unfortunately for Jonathan, he has no idea how dangerous Darkside is, werewolves really don't make ideal surrogate parents, and his would-be kidnapper is by no means his only enemy....

Very little about Darkside is original. The lonely boy protagonist, the doppelgänger vision of London, the assortment of Victorian monsters, the side-show ringmaster villain… we've seen all of these before, and most more than once. But originality isn't everything, and Becker has gotten a lot of things absolutely right—his book is fast-paced, intricately plotted, and highly entertaining. Sure, Darkside is yet another mash-up of familiar horror/fantasy tropes, but it's a fun, smart, well-written mash-up, and we eagerly look forward to reading the sequel.

Posted by: Julia, Last edit by: Julianka
No new comments are allowed on this post.