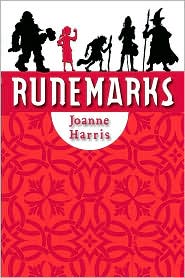 Joanne Harris's novel Runemarks—her first book for children—features an intriguing female protagonist, a collection of secondary characters from Norse mythology, and an imaginative, fully-developed setting. There have been more impressive fantasy novels released in the past few years, but Runemarks is a solid entry into the growing field of entertaining novels for young readers written by "serious" authors.

Runemarks is set in post-Ragnarök world dominated by a puritanical church. Unbeknownst to most of humanity, the Norse gods still exist (although they're exhausted, totally cranky, and their powers have been greatly reduced). Harris's heroine is a fourteen-year-old villager named Maddy Smith—a girl born with a "ruinmark" on her palm, an indicator of magical power that her neighbors view with suspicion and contempt. Maddy's only friend is an mysterious traveler named One-Eye, who shows her that the mark on her palm isn't a curse, but rather the sign of a extraordinary destiny.

Unlike most modern novels with teen protagonists, Runemarks doesn't have a romantic storyline. Very young readers may not mind this, but older children, teens, and adult readers (the same fans who look forward to Puck's gleefully twisted courtship of Sabrina in Michael Buckley's Sisters Grimm series or sighed over Gregor and Luxa's star-crossed romance in Suzanne Collins's Underland Chronicles) might be disappointed to discover that Harris's isolated, unhappy heroine has absolutely no romantic possibilities.

Runemarks lacks the dazzling scope of Philip Pullman's His Dark Materials series or Jonathan Stroud's Bartimaeus trilogy, but it works as a smart and solidly entertaining fantasy. We hear Harris is already hard at work on a sequel*, and we look forward to reading more stories set in her creative, meticulously constructed world.

*There won't be a romance for Maddy in that one, either. I asked.

Posted by: Julia, Last edit by: Julianka
No new comments are allowed on this post.