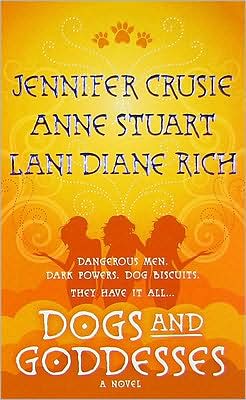 Dogs and Goddesses, the latest collaborative novel from Jennifer Crusie, Anne Stuart, and Lani Diane Rich, has a lot of plot packed into its 388 pages. In addition to the three heroines' romantic travails (one storyline per author), there's also magical cookies, talking dogs, and an ancient, ruthless Mesopotamian goddess with plans of world domination.

When Abby Richmond, Daisy Harris, and Shar Summer meet at a dog obedience class in a college town in southern Ohio, their lives change forever. For one thing, they become fast friends. For another, their dog trainer happens to be a power-hungry, 4000-year-old goddess named Kammani, who informs them they are the descendents of a trio of demi-goddesses with the ability to talk to dogs. Naturally, Abby, Daisy, and Shar write her off as nuts—but it gets a lot tougher to dismiss her when their dogs suddenly start voicing their thoughts on everything from squirrels to Snausages.

Most of Dogs and Goddesses feels like a Jennifer Crusie book. Normally, I'd think this was great news (finally, she managed a truly seamless collaboration!), but this book actually would have been improved by more idiosyncratic contributions from Stuart and Rich. Dogs and Goddess has all of Crusie's hallmarks: dogs, movie references, strong female friendships, sharp one-liners, an Ohio setting. (There's even an Elvis song.) It makes for a fun blend, but it would have been strengthened by some equally quirky fresh blood—as it is, it feels like a Jennifer Crusie's Greatest Hits album.

Still, even a Cruise retread is well worth buying, and Dogs and Goddesses is no different. Her share of the book is predictably awesome, Rich and Stuart's contributions are entertaining, if forgettable, and the shared "Evil Goddess" plotline is enjoyably crazy. We're still waiting for the next Crusie solo project with baited breath, but Dogs and Goddesses will help tide us over until the real thing comes along.

No new comments are allowed on this post.