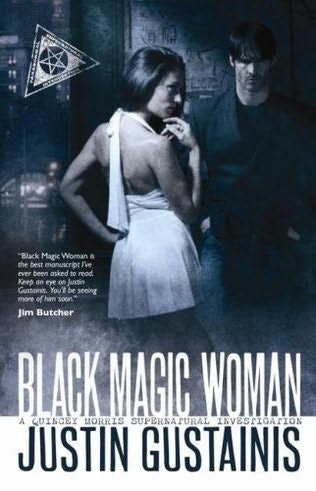 I love monster movies, which is why I've always been surprised that the 2004 film Van Helsing was so bad. It had vampires, werewolves, witches, and Hugh Jackman—how could such abundant awesomeness go so wrong? Thankfully, there are several novelists out there doing superior job of handling the same material: Charlaine Harris, Jim Butcher, Kat Richardson, and Justin Gustainis are all doing their part to breathe new life into the B-movie-inspired horror/action-adventure genre.

Gustainis's novel Black Magic Woman is the first book in a new supernatural detective series. Quincey Morris—great-grandson of the Texan featured in Bram Stoker's Dracula—is an occult investigator. Along with his consultant, white witch Libby Chastain, Morris has successfully disposed of everything from vampire infestations to poltergeists, but even their combined talents may not be enough to rescue a suburban family from a deadly curse. Tracing the curse back to its source drags Morris and Chastain on a whirlwind tour through the occult underworlds of Boston, San Francisco, New Orleans and New York, and subjects them to a terrifying series of magical attacks.

Black Magic Woman is intensely violent (our more delicate readers might want to skip this one), and—presumably saving something for future books—Gustainis does an indifferent job of fleshing out his main characters. Morris and Chastain are pleasant enough, but less interesting than some of the book's minor characters, including an uptight FBI agent and his temporary partner, a cop on loan from a South African police division focused on occult crimes.

But who wants to nitpick over characterization when Black Magic Woman offers such a rich smorgasbord of evildoers? This is a book with witches, zombies, vampires, werewolves, and demons. There's even a hail of toads! (And Gustainis has quite the gift for stomach-churning description: "…something that looked like a puke-colored Teletubby with fangs lay in the hallway, dead in a pool of its own slime.") Sure, it's not a Jane Austen novel, but if you're in the market for a smart, stylish, gore-filled monster fest, Gustainis's Black Magic Woman totally delivers.

Posted by: Julia, Last edit by: Julianka
No new comments are allowed on this post.