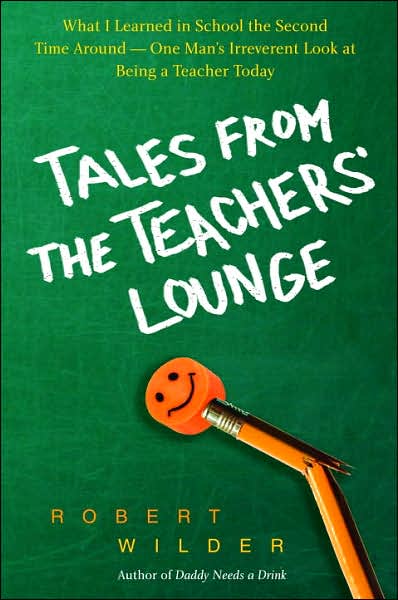 Robert Wilder (author of the whimsical parenting book
Daddy Needs a Drink
) has written another book, and it's just as funny, profanity-laden, and stomach-churning as his first.
Tales From the Teachers' Lounge
is a series of humorous essays about the questionable joys of teaching.
Wilder does not romanticize his profession—this is a book about bullies, insane co-workers, hormonal teenagers, and profoundly screwed-up first graders. At twenty-six, Wilder left an advertising career in New York and moved to Santa Fe, where he got a job teaching in an alternative school. He eventually switched to a private preparatory school, and did some summertime work for Antioch.
Tales from the Teachers' Lounge
includes stories about being a student, a teacher, and a parent, with a couple of detours for chapters like "Teentales: High School Students' Retelling of Classic Literature".
Large chunks of
Tales From the Teachers' Lounge
are tough going. I had to put the book down twice in the first chapter and go wash my hands, and there was a bullying scene on page 84 that required a full shower. Wilder's fondness for gross-out anecdotes, combined with his no-holds-barred approach to everything from helicopter parents to religion, means that you probably shouldn't give this book to any sensitive student teachers on your holiday shopping list. (Seriously, the profession might totally die out—this book is about as far from those saccharine
Chicken Soup for the Teacher's Soul
books as you can get.) On the other hand, if you've got a strong constitution and a pithy sense of humor,
Tales From the Teachers' Lounge
is honest, intermittently heartwarming, and extremely funny.
No new comments are allowed on this post.