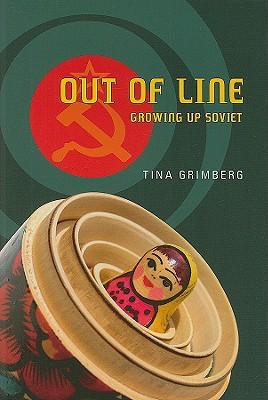 Tina Grimberg's
Out Of Line: Growing Up Soviet
is an excellent, surprisingly optimistic account of her childhood in the Ukrainian city of Kiev in the sixties and seventies. Grimberg's book suggests while that some of the Western impression of the Communist existence* is accurate, it's not the whole story—life under Communism had its bright moments, too.
Out of Line
explores plenty of depressing subjects. The author dips into Kiev's war-torn history, Communism's culture of bribery, propaganda, and corruption, and the Soviet Union's widespread anti-Semitism. Grimberg contrasts her book's darker elements with humorous childhood anecdotes and affectionate stories about her family (many of whom had endured tremendous suffering). A harrowing account of her grandmother's time in prison is followed by a sunny description of her first love:
"A life-sized statue of a young Lenin greeted everyone who walked through the worn wooden doors into the lobby of Childcare Center #47. Made of white alabaster, Lenin was depicted as a little boy no more than eight years old. He wore carved short pants that ended at his knees and his neat belted shirt was primly buttoned up to his chin. A book was tucked under his arm. His childlike but thoughtful gaze was directed into the distance, suggesting, even promising, a better future for the tired and unjustly treated masses of Russian people. I had a crush on him."
We here at Wordcandy hesitate to throw around phrases like "life-affirming" or "the human condition" (that's Oprah territory), so we'll stick with describing
Out of Line
as an outstanding memoir about under-reported time and place, one that deserves to be read at home, taught in schools, and dissected by book groups. This is a book about oppression and cruelty, but it's also about family, survival, and making the best of things—subject matter that continues to resonate, long after the fall of the Soviet Union.
*Gray and grim, with long,
long
shopping lines.
Posted by: Julia, Last edit by: Julianka
No new comments are allowed on this post.