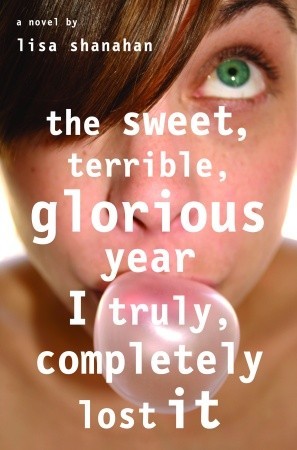 I don't know much about Australian entertainment. My knowledge of their popular culture is limited to Strictly Ballroom, a single episode of Kath & Kim I caught in England, and an Australian romance novel that I read a few years ago, which featured such outdated sexual politics that I originally thought it was written in the sixties (it was actually from 1992). These experiences left me with a firm belief that Australians have an extremely, uh, robust sense of humor—an impression further solidified by Lisa Shanahan's YA novel, The Sweet, Terrible, Glorious Year I Truly, Completely Lost It.

Fourteen-year-old Gemma Stone's life isn't too bad. She gets along reasonably well with her family, she has a loyal best friend, and she's nursing a quiet, unhopeful crush on one of the school's Beautiful People. But that's before her sister Debbie gets engaged to a man from a family of military fanatics, local hoodlum/closet Shakespeare fan Raven De Head starts hanging around, and she works up the courage to try out for the school's production of The Tempest.

The Sweet, Terrible, Glorious Year I Truly, Completely Lost It has a lot going for it: Gemma and Raven are instantly likeable, and it's rare (and wonderful) to see a YA book that gives its characters more than one defining characteristic. Shanahan uses too many clunky descriptive phrases ("fancy houses perch on the cliffs like thickly iced wedding cakes"), but she's telling a story about a nice girl meeting an equally nice boy, discovering a talent for acting, and surviving her sister's wedding. Can't go wrong with that...

...which doesn't mean this book is for everyone! Heed our warning: most of the humor in The Sweet, Terrible, Glorious Year I Truly, Completely Lost It is not for delicate flowers. But if you're strong of heart and stout of stomach, and you don't mind a little wincing (the heroine ends up attending the wedding in a bird costume), shuddering (when the heroine's father drinks a glass of water with a bit of carrot in it that flew out of somebody's nose), and outright gagging (there's this scene with a sick cow...), Shanahan's book is sweet, over-the-top fun.

Posted by: Julia, Last edit by: Julianka
No new comments are allowed on this post.