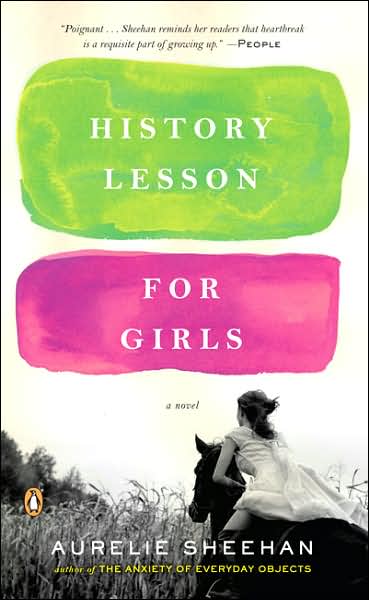 Aurelie Sheehan writes with delicate, lyrical precision, her characters are memorable and three-dimensional, her sense of time and place imbues every page... and if she'd shown the
tiniest bit
of self-restraint, her book
History Lesson for Girls
could have been great.
The year is 1975, and thirteen-year-old Alison Glass has just moved to Weston, Connecticut, with her bohemian parents, her horse, Jazz, and the socially crippling back brace she has to wear for her scoliosis. Alison tumbles into an intense friendship with popular, fierce Kate Hamilton, daughter of the town's richest New Age guru. Bonding over their shared love of horses, Kate and Alison's friendship carries them through some very difficult times—but, in the end, their relationship isn't strong enough to save them both.
History Lesson for Girls
is a virtual parade of melodrama. There's child abuse, drug abuse, date rape, failing marriages, school bullying, murdered animals, and suicidal kids. There are tragedies large and small: Kate's abusive, drug-addled father shoots her horse, and our heroine spends the night of the school dance watching
Hawaii Five-O
with her dad. No tearjerker stone is left unturned—and after a while, the relentless suffering gets more than a little ludicrous. Sure, these were the reckless, crazy seventies, but did
everything
have to go wrong for these kids? Did Sheehan have some kind of master list of childhood trauma she was checking off?
I have read (and loved) other depressing-but-beautifully-written coming of age stories set in the seventies, but Sheehan's book won't be finding a place of honor on my bookshelf next to
The Dangerous Lives of Altar Boys
and
Madeleine L'Engle
's Austin Family books. Ms. Sheehan is a gifted writer, but her book would have really benefited from an adaptation of Coco Chanel's famous advice about accessories: take out one tragedy before leaving the house.
No new comments are allowed on this post.