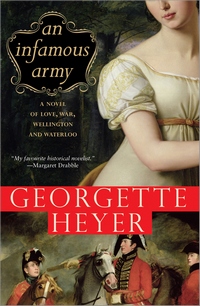 It's been decades since American audiences have seen decent editions of Georgette Heyer's books. While British readers were enjoying the
beautiful reprints
Arrow Books released a few years ago, Americans had to make do with Harlequin's
paperback editions
, with their bland cover art, cheap bindings, and uninspiring forewords*. That's why I was so delighted to see the new
Sourcebooks
editions of Heyer's books: at long last,
these
are the reprints her books deserve.
The first Sourcebooks title is Heyer's 1937 novel
An Infamous Army
. Like all of Heyer's books,
An Infamous Army
features a love story: the stormy courtship of Lady Barbara Childe and Colonel Charles Audley. Reversing traditional literary gender roles, Heyer's heroine is arrogant, ruthless, and selfish, while her hero is gentle and considerate. A lesser author might have driven this pair through tedious
Taming of the Shrew
-style hijinks, but Heyer gives her characters a happy ending that feels both plausible and hard-won.
An Infamous Army
is set in the glittering social scene of Brussels, a few weeks before the Battle of Waterloo. Heyer is writing about people trying to have fun in an unsettling time and place, and her scenes of nervous gaiety have just the right brittle touch. The military aspect of the story might be more difficult for readers to follow—these scenes are well written and historically accurate, but if (like me) you don't know much about the Napoleonic Wars, I recommend reading the book's Afterword
before
reading the novel, as it provides a quick and helpful summary of the events surrounding Waterloo.
An Infamous Army
isn't Heyer's most endearing book, but it is one of her most exciting. Charles and Barbara make an intriguingly unconventional pair, and Heyer's battles scenes are dynamic, suspenseful, and painstakingly researched. I'm even more excited about Sourcebooks' next Heyer release—
Cotillion
, which
is
one of her most endearing books—but this handsome edition of
An Infamous Army
suits her story beautifully, and is sure to attract plenty of new readers.
*"Uninspiring" is too kind a description. I
still
cringe at the memory of the foreword Catherine Coulter wrote for
The Grand Sophy
.
Posted by: Julia, Last edit by: Julianka
No new comments are allowed on this post.