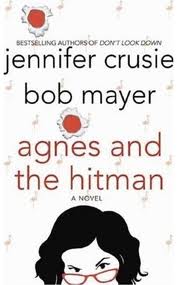 Agnes and the Hitman, Jennifer Crusie and Bob Mayer's second romantic-comedy/action-adventure collaboration, is a much more successful effort than their first, 2006's Don't Look Down. Their love story is more compelling, their action scenes are more coherent, and their writing styles have meshed to the extent that it's tough to tell who wrote what.

Food columnist Agnes Crandall has her hands full: she's working on her second cookbook, rehabbing the dilapidated house she's just purchased, and trying to organize a mob society wedding in exchange for three months' worth of mortgage payments. Agnes is determined to succeed on all fronts, but things go from bad to worse when a kid with a gun breaks into her kitchen and tries to kidnap her dog. Luckily for Agnes, she's got Connections, and it isn't long before a big, quiet, heavily armed guy named Shane is recruited to protect her.

This isn't the first book to feature a romance between an emotionless hit man and a civilian, but Crusie and Mayer airily dismiss any possible lifestyle clashes by giving Agnes a lethal temper and a strong—some might say psychotic—sense of justice. (As the book opens Agnes is working on her third engagement. Both of her previous relationships ended when she discovered that her exes had been unfaithful and attacked them with her non-stick frying pan.)

Agnes and the Hitman has more plot twists and goofy characters than you can shake a stick at, giving the authors plenty of opportunity to display Crusie's gift for salty romantic comedy and Mayer's sense of pacing and suspense. While nobody is going to nominate such shamelessly over-the-top fun for any lofty literary prizes, Crusie and Mayer's readers are sure to enjoy themselves.

Posted by: Julia, Last edit by: Julianka
No new comments are allowed on this post.