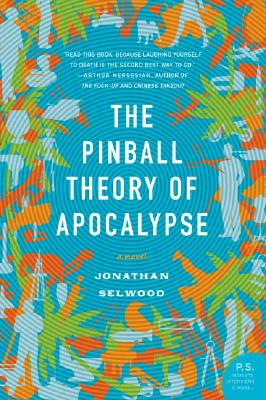 Jonathan Selwood obviously worked very hard on making his debut novel,
The Pinball Theory of Apocalypse
, equal parts amusing and appalling. Too many of his attempts to be shocking fall flat, but he's hiding promising storytelling chops underneath all that affected quirkiness.
Selwood's heroine is an artist named Isabel Raven. Isabel spent her early twenties scraping by as a "fine art facsimilist", but her career has taken off now that she's begun painting celebrities as famous works of art: Cher as the
Mona Lisa
, Tom and Katie as
American Gothic
, Britney Spears and her son as Raphael's
Madonna and Child
. But while Isabel's professional life is on an upswing, everything else has gone to hell: her boyfriend is having an affair with a sixteen-year-old pop star, her apartment has been destroyed by an earthquake, and it's tough to tell whether the increasing weirdness around her is a sign of a looming apocalypse, or just a normal part of living in L.A.
Too many of Selwood's characters feel like they've been stolen from a Wes Anderson movie, and his laboriously constructed weirdness is a poor fit for what turns out to be a fairly conventional happy ending (apart from the potential apocalypse). However,
The Pinball Theory of Apocalypse
does have several things going for it, including a likeable heroine, a highly readable plot, and a several laugh-out-loud moments. (Many of which involve a hideously embarrassing ad campaign for "vaginal rejuvenation" plastic surgery. The resulting jokes aren't exactly tasteful, but they
are
pretty funny.) Mr. Selwood's plot and characterization skills still have a long way to go—if he insists on writing about crazy people, he should read
Stella Gibbons
'
Cold Comfort Farm
for tips on how to do it properly—but he's clearly an author worth keeping an eye on.
No new comments are allowed on this post.