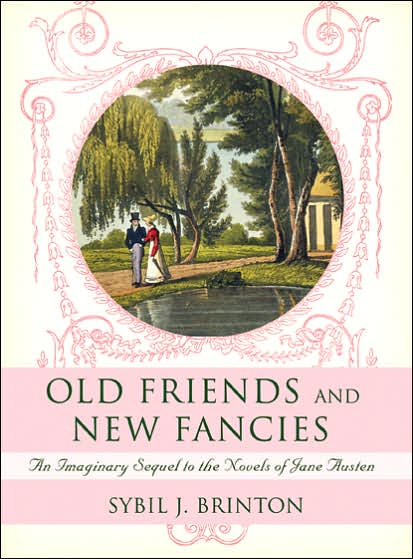 Written in 1913, Sybil G. Brinton's Old Friends and New Fancies was the first Jane Austen sequel ever published, and features characters from all six of Austen's books. While Old Friends and New Fancies doesn't quite stand on its own as an independent novel, Brinton's engaging continuation features a plausible imitation of Austen's style and tone.

Brinton's book focuses on the further adventures of Georgiana Darcy, Kitty Bennett, and Mary Crawford. Austen's heroines—particularly Elizabeth Darcy—play supporting roles, and dozens of familiar minor characters pop up throughout the novel. Misunderstandings, poor judgment, and infelicitous matchmaking efforts abound, but the final chapter sees everyone respectably paired off (more or less).

Brinton makes several iffy plot and character decisions: Emma—clearly Brinton's least-favorite Austen heroine—seems even more obnoxious than she was originally, poor Colonel Brandon appears to have died shortly after his wedding (probably because his wife made him stop wearing those flannel waistcoats), and I highly doubt Mr. Darcy would have allowed his sister to marry a twenty-four-year-old sailor from a middle-class family, regardless of how charming he was. Still, Brinton comes up with several ingenious romantic matches and social groups, including an all-too-believable friendship between Lady Catherine de Bourgh and Lucy Ferrars.

As an Englishwoman writing almost one hundred years ago, Brinton's book offers a far more credible imitation of her source material than the current horde of Austen-inspired novels. And while she never comes close to capturing Austen's biting sense of humor or sharp social commentary, Brinton's Old Friends and New Fancies works beautifully as a creative, good-natured, and respectful tribute to Austen's books.

Posted by: Julia, Last edit by: Julianka
No new comments are allowed on this post.