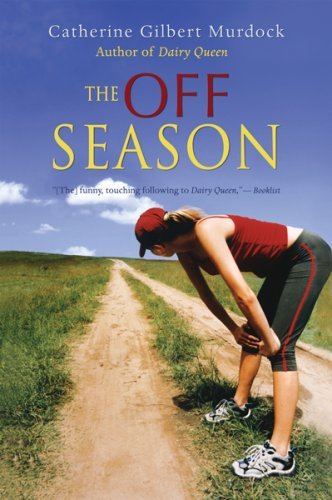 Catherine Gilbert Murdock's The Off Season is just as thoughtful and engrossing as its critically praised prequel, 2006's Dairy Queen. Murdock's quiet, football-playing heroine has gotten more self-confident since the events of Dairy Queen, but her attempt to take charge of her future is still very much a work in progress.

Sixteen-year-old D.J. Schwenk's school year is starting off well. She's getting along with her family, she's reconciled with her best friend, and Brian Nelson keeps coming by the farm to, ah, "help with the chores" (i.e., make out with her in the barn). Best of all, she's a starting player for the football team. Eleventh grade looks great—at least until D.J. injures her arm, damaging her chances of getting a college sports scholarship, discovers that Brian's unwilling to be seen with her in public, and finds that her parents are in rocky financial shape. D.J. is determined to keep her head above water despite these difficulties, but even her strength is tested when her brother is terribly injured.

This is a book powered entirely by the appeal of its main character, and while D.J. lacks the glib charm of a Meg Cabot-style heroine, she's still a wonderful creation. Despite her inarticulateness, she's introspective, honest, and self-aware. She's devoted to her family, who rely on her to keep the farm limping along, and she attacks her problems with the work ethic of an obsessive-compulsive mule. Spending time in such an outstandingly level teenage head was a rare and rewarding experience.

The Off Season ends on a optimistic note, but a few unresolved issues gave it a "middle book" vibe that left us hoping for a third book in the series—one where D.J.'s family gives her time off from her responsibilities, she gets a full-ride athletic scholarship to the college of her choice, and she falls in love with an awesome guy who goes to all her games and cheers for her till he's hoarse. After all, such a standout character deserves a tailor-made fairytale ending.

Posted by: Julia, Last edit by: Julianka
No new comments are allowed on this post.