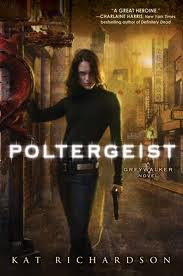 Kat Richardson's
Poltergeist
(sequel to 2006's
Greywalker
) is a sharp, sinister urban fantasy that blends storytelling with Seattle history. Painstakingly researched and intelligent, this series is perfect for fantasy/horror fans looking for something more than a spine-tingling cheap thrill.
As
Poltergeist
opens, Seattle private investigator Harper Blaine is slowly adjusting to her newfound psychic powers. Harper's ability to see into the ghost-filled paranormal realm known as "the Grey" is giving her more than nightmares—it's also bringing in some extra business. Professor Gartner Tuckman hires her to investigate the subjects of his latest experiment: a recreation of the
Philip Project
, a real 1972 experiment wherein a group of people attempted to create a poltergeist. While Tuckman began his project by creating fake phenomena to encourage his subjects' belief in their psychic abilities, the latest group sessions have been producing supernatural reactions that are disturbingly real... and dangerous.
While one wonders how much of the book's setting will register with non-Seattleites, anyone who's ever spent any time in the city will get a thrill out of Richardson's use of local legends and landmarks. Seattle is a city with a very ghost-story-friendly history, and Richardson digs into everything from the tragedy of the Wah Mee Massacre to the persistent rumor that Bertha Knight Landes, Seattle's first female mayor, haunts the
Harvard Exit Theatre
. Even Seattle landmarks
without
any supernatural ambiance whatsoever look a little cooler through Richardson's eyes: Harper spends a lot of time at the Barnes and Noble store in Seattle's
Pacific Place Mall
, which (for various geographical locations, as Richardson explains in detail) readers will discover is guaranteed to be 100% ghost-free*.
Richardson's supernatural concepts have a science fiction edge to them, and her strong sense of place and fondness for historical research guarantee that her book will appeal to a wider audience than straight horror buffs. After all,
Poltergeist
is smart, action-packed, fast-paced,
and
one hell of a ghost story. What's not to like?
*Um... in case you ever want to visit.
Posted by: Julia, Last edit by: Julianka
No new comments are allowed on this post.