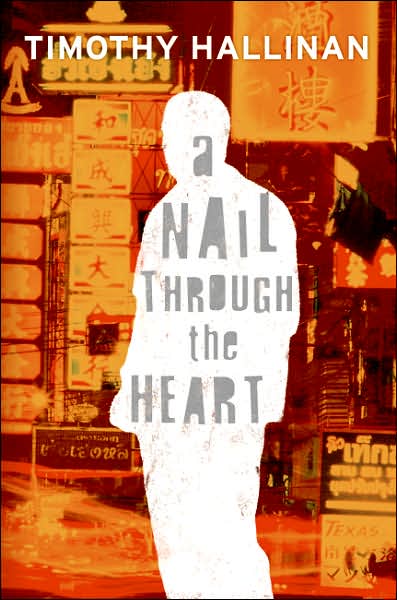 Recently, we've been in something of rut here at Wordcandy. If it wasn't a book about a boy wizard (you wouldn't
believe
how many Harry Potter rip-offs we get), it was a YA romance. Don't get us wrong--we love boy wizards and YA romances as much as the next person, but it was time to mix things up a little. We wandered over to our "To Be Read" pile, and picked out the two toughest, grimmest-looking titles in the bunch....
...and, luckily enough, they both turned out to be extremely solid thrillers, with enough nail-biting action to keep us thoroughly engrossed, but not so much pointless ickiness that we went skittering back to the boy wizard/YA romance stack. (This is always a danger, because we're very delicate flowers here at Wordcandy.)
A Nail Through the Heart
, by
Timothy Hallinan
Hallinan's novel scores pretty high on the gross-o-meter, but it makes up for its gruesome material by featuring an unusually engaging group of main characters, all of whom are trying to make a life for themselves in post-tsunami Thailand: Poke Rafferty, an American travel writer turned unofficial detective, Miaow, the former street child he hopes to adopt, and Rafferty's girlfriend Rose, an ex-go-go dancer who's struggling to get a legitimate housekeeping business off the ground.
Legally adopting Miaow is an expensive undertaking, so Rafferty accepts two very different private-eye jobs: hunting down a missing Australian man and locating a mysterious envelope. The seedier areas of Thailand make for a perfect noir landscape, and it isn't long before Rafferty's investigations uncover several stomach-churning secrets.
A Nail Through the Heart
features some truly brutal material, but Hallinan handles it with empathy and intelligence. Few things are resolved by the end of the novel, but it ends on a cautiously hopeful note—which is why we were delighted to find that Hallinan plans to turn his story into a series. We'll have to brace ourselves to get though more scenes of Thailand's darker side, but Hallinan's vivid characters make it worth the effort.
Dead Connection
, by
Alafair Burke
Dead Connection
, Alafair Burke's first standalone novel, opens with a young woman's murder. When a tentative connection is made between her death and the murder of another young woman exactly one year earlier, New York detective Ellie Hatcher is assigned to assist Flann McIlroy, the eccentric homicide detective in charge of the case. The killer has left behind a clue linking his victims to an online dating service, and Ellie is a young, single woman, living alone in the big city—perfect for playing bait.
While Burke gives Ellie an interesting back story, an interesting back story does not a well-rounded character make. Ellie's father, also a cop, died in an apparent suicide while attempting to catch another serial killer. Ellie is obsessed with the idea that her father was murdered, and her fixation with his death casts a shadow over her own investigation. Unfortunately, while readers might have enjoyed getting to know Ellie over the course of a series, she's too vague a character to carry a standalone novel.
Happily,
Dead Connection
is a strong enough novel to distract readers from its underwhelming heroine. Burke is a capable writer, and her book has both topical drama (online credit fraud, the dangers of internet dating) and elements of more timeless suspense (Serial killers! Women in peril! Russian mobsters!). Burke's novel deserves a more intriguing heroine, but it's still a solid choice for readers in the market for an intelligent, fast-paced thriller with a female protagonist and a tidy ending.
No new comments are allowed on this post.