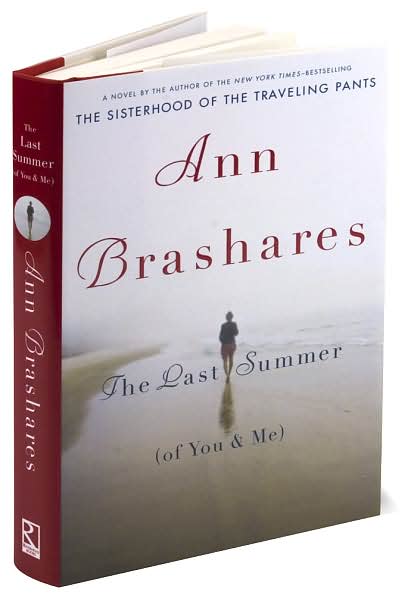 have spent years avoiding books like Ann Brashares's novel
The Last Summer (of You and Me)
. Everything about it--the dreary cover art, the tasteful font, even the artistically placed parentheses worked into the title--announce that this book is designed to be a serious-yet-uplifting look at Real Issues, and that's usually the kind of thing I avoid like the plague. But I accept that it's probably time for me to stop judging books by their covers, so I gamely picked up Ms. Brashares's book...
...only to find that my gut reactions to cover art are
always
spot-on.
The Last Summer (of You and Me)
is a cloying tearjerker that's long on fortune-cookie-gleaned wisdom and short on plausibility or entertainment value. It's the story of strong, independent Riley, her gentle younger sister Alice, and Paul, Riley's lifelong best friend. Riley, Alice, and Paul have spent most of their summers together on Fire Island, a quiet beachfront community on the East Coast. The powerful bond between the three young adults is tested when one summer introduces a burgeoning attraction, a life-threatening illness, and--gasp!--a
terrible secret
.
Brashares's book reads like a Reader's Digest version of a sentimental novel, indulging in countless emotionally manipulative clich
é
s. A heart condition? Check. Pointless secrets keeping young lovers apart? Check. A poor little rich boy surrounded by cold, greedy relatives? Check. One suspects that Brashares wrote the entire book while watching a ten-hankie movie marathon of
Beaches, Love Story
, and
My Girl
.
To be fair, the youthful protagonists of
The Last Summer (of You and Me)
might appeal more to younger readers. It's possible that Brashares's teenage fans (the same people who cried buckets of tears over the adorable little moppet with leukemia in Brashares's
Sisterhood of the Traveling Pants
series) may gobble up this angstfest. But for this twenty-eight-year-old book reviewer,
The Last Summer (of You and Me)
was an eye-roll-inducing waste of time. Trust me, real life brings enough pain and suffering--why pay twenty-five bucks to get it from your beach reading?
No new comments are allowed on this post.