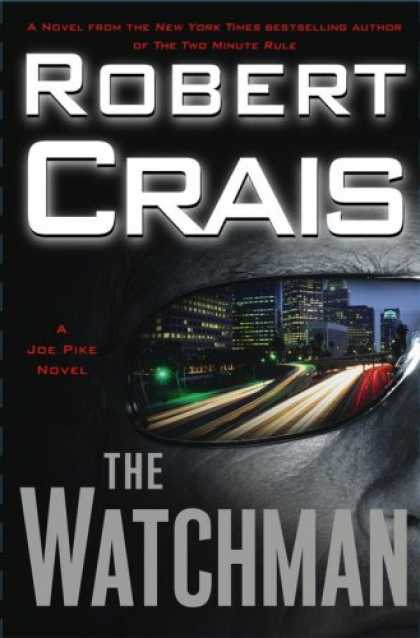 I thoroughly enjoyed Robert Crais's action/suspense novel The Watchman. Crais's book is neither deep nor plausible, but it is fast, fun, furious, and capped off with a satisfyingly noisy shoot-'em-out ending. It doesn't have any of the intellectual ambitions of the last action/suspense novel that we reviewed, but it's much more entertaining.

Wealthy Los Angles socialite Larkin Barkley finds herself in serious need of protection, and Joe Pike (former marine, ex-LAPD officer, man of mystery and all-purpose badass) is just the man to provide it. After an attempt on her life leaves three men dead, Pike devotes himself to figuring out the connection between Larkin and her would-be assassins. Unfortunately for Pike, uncovering the truth proves less of a challenge than keeping his troubled, angry charge from shooting herself in the foot.

The Watchman's dialogue, action, and characters are unapologetically clichéd, but Crais delivers the goods with style and aplomb. His characters are so confidently drawn that the only misstep—Larkin—stands out like a sore thumb. Young, silly, and traumatized, Larkin never becomes a cohesive part of the action. Watching the other characters interact with her is painful, and Pike's attraction to her is a serious mark in his disfavor. (No self-respecting hyper-efficient killing machine falls for a girl who says stuff like: "I have a tattoo on my ass... It's a dolphin. I think dolphins are beautiful. You see them racing through the water. They have that wonderful smile. They look so happy, going fast. I want to be a dolphin.") I would happily read a book that paired Pike with anybody from Buffy the Vampire Slayer to Stephanie Plum, but I can't stomach a romance with a twenty-two-year-old girl with a dolphin on her tuckus. That's just icky.

Larkin aside, The Watchman is tremendous fun. If you're in the market for a time-killing suspense novel, Crais's combination of assassins, intrigue, and emotionally stunted guy friendships is the choice of champions. Longtime Crais fans and new readers alike are sure to clamor for future Joe Pike-centered stories—and if we're lucky, maybe the next book will feature a love interest modeled on somebody other than Paris Hilton.

Posted by: Julia, Last edit by: Julianka
No new comments are allowed on this post.